Posted Sun Aug 30th by Monty


Bears (1-1) at Broncos (0-2)
Preseason Week 3
Sunday, Aug. 30 2009 6:00 pm MT
GameBlog starts at 5:30
(Editor's Note: Gone are the "Live Blogs." Enter The BT GameBlog. More features, more game details, and more juicy topics for conversation for the die-hard Broncos fan. Live game chat still launches half-an-hour before game time. Enjoy!)
Has there been a bigger preseason game this decade? If so, it escapes me. Jay Cutler makes his Mile High Return in front of what is sure to be a fiery crowd – not to mention a nationally televised audience of millions. Kyle Orton plays against the team that fleeced their draft to get Jay and sent him along with it. This. Should. Be. Fun.
Recommended listening: If you still need to get fired-up for this game, we humbly recommend The Jilted Broncos Fan Jay Cutler Playlist. [BroncoTalk]
Weather: It is pouring over INVESCO as of 4pm MT. Could be a muddy mile high mess tonight! Winds mild. Full weather profile. [Weather.com]
Matchups That Matter
Cheerleaders: The Bears don't have any cheerleaders! Denver's Valerie says that's a lame and epic fail.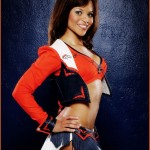 Coaches:

vs.

Edge: Chicago. Lovie Smith coached his Bears to the Super Bowl only three seasons ago, and Josh McDaniels hasn't coached a game that's mattered yet.
Quarterbacks:

vs.

Edge: Chicago. Orton was part of a package that included two first round picks for Cutler, so the scales are certainly tipped in the ex-Bronco's favor.
What to Expect
Expect the starters on both teams to play into the third quarter. Look for the Broncos to be aggressive on defense and put pressure on Cutler whenever possible. Brian Dawkins makes his Broncos debut tonight, so get excited to see 2009's secondary for the first time. And cross your fingers for Denver's first turnover of the preseason!
What not to Expect
We all want Kyle to succeed while Jay's in town, but the Bears' defense has kept opposing quarterbacks to the worst preseason passer rating in the league. Orton will have his work cut out for him. Don't expect to see a lot of running – with LaMont Jordan and Knowshon Moreno out, the Broncos are getting thin at running back and will look to stay healthy.
Finally, don't expect Cutler and McDaniels to shake hands after the game. GO BRONCOS!
What are you looking for, Broncos fans? Dish it out in the comments and be sure to join us half an hour before kickoff!!