Good listen.
Bill Simmons Podcast review (8/12) of Madden10
in which he brings a buddy on the show to talk about the game, his buddy, it turns out to be, is a Broncos fan. What he has to say may frighten you, although he does sound like an extreme pessimist/realist? Having seen and been appalled by the Broncos ratings, I was prepared for the worst ( I have always wanted a t-shirt that said "Prepare for the wurst!" complete with image of a big juicy brat) don't try to steal it, I have it copywritten) seriously).
My buddies and I have a tradition of getting the new Madden at midnight on its release date. We live in New York City. We board the train to Manhattan, each of us draped in team jerseys, roll into the Virgin Mega Store in Union Square (now out of business) at fifteen til midnight, we then stop by Taco Bell, hit a bodega to stock up on Mountain Dew and beer, and head back. It usually takes us a solid hour to work through team rosters, tweaking the depth charts and doctoring players' ratings that were joked. Then we play, tournament style, all night long. We range in skill levels, all with different teams; Browns, Bengals, Bills, Cowboys & Broncs all represented, and my friend Tom usually always wins, but we have fun. It has become less and less about the game, and more and more about getting together with old pals to shoot the bull and have a good time. It's tradition.
This year we decided the weekday/midnight deal wasn't going to work. At the ripe age of 27, too many of us have work the next day, and to be real, even if we didn't, it wouldn't matter much as most of us would probably fall asleep around 2 or 3am. As an alternative we are starting a BBQ/BEERFEST/MADDEN10 Tourney at 5pm on Saturday night! A dude's night! A videogame football nerd's night!
To prep for Saturday I walk into an anonymous GameStop today, wondering how we go about reserving a copy of Madden, do these things really sell out?
Me: What's the deal with reserving Madden?
Clerk (I think high): You just want one now?
Me: What do you mean?
Clerk (I'm almost positive is stoned): We got them in, they're in the back, you just want one now?
Me: You can do that?
Clerk (Not high, not high, I feel bad for thinking that, it ends up being his personality): I mean sure, I don't care.
Money exchanges hands.
Long story short. I have the game a couple days early, in my clutches, so I wanted to play it and tell ya'll what the Broncs will be like when you pick up the paddles and run with them this year. Note: This isn't a review on the game, just my immediate perception of the fake 2010 Broncos.
Let me give you the setup about the setup:
I turn the game on: go immediately to Quick Play: Choose Broncos vs. Chiefs at Invesco: I DO NOT change any of the settings, it remains on Pro level difficulty and 7 minute quarters: I start the game.
I black out in a fog of pure Madden bliss. I do not blink once in the next 45 minutes. When I come to, the final score appears before me.
What I saw was not the wurst at all!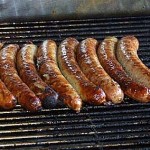 I end up winning 52-7, and the touchdown they scored was a big broken play, you know, that magic Madden BS in the final waning minutes of the game. So I win 52-0. Chiefs stink.
Orton- If you loved playing with Cutler stick with 09/long bombs are no longer an option/was fairly accurate on shorter routes/slot receivers and TE's will be his best friend
Marshall- Easy to tell he is one of the best rated receivers in the game/made an awesome over the shoulder catch from Ort/seems to have an automatic 3-4yds for forward progress after the first hit
Royal- Programmers rewarded Eddie/super speed/great hands/awesome kick returner as well, even if he sits them out in real life this year
Moreno- Very quick/makes his cuts and has a nice burst of speed/fairly easy to the ground though
Hillis-Truck stick is made for Peyton/play screen makes it easy to sub and spell in different RB's, which will be nice when playing with Den
O-Line- Held strong on passing plays, as they should have/didn't open up many holes for the RB's, but stood their ground to give enough time for Moreno to find space
Defense- The big surprise/played mostly out of the 3-4/didn't get much push from the front 3 at all but our fast linebackers were able to put pressure on Cassell resulting in 4 of the 5 picks he threw/Ayers and Phonso each grabbed one and ran it back, both extremely quick at their position/Secondary was on lockdown, Dawkins grabbed an INT and Bailey had a one handed grab that he took the other way
Prater- Despite low rating nailed a 47 yd-er easy
I felt great, the ratings didn't mean a thing, if you know the team and know how to use them the ratings mean nothing. I was no longer offended, I felt great.
So great I bumped it up to All Pro with 8-minute quarters and took on the Chargers in San Diego.
I lost 21-0.
It could be a long virtual season.
Madden fans, lets prepare for the wurst.