Posted Tue Jul 28th by Monty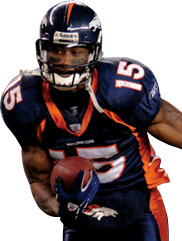 After staying good to his word and reporting for camp on time yesterday, Brandon Marshall was a noticeable no-show for Tuesday's morning practice. Head Coach Josh McDaniels told reporters after practice that the coaches held Marshall out of practice because the receiver was "sore."
No kidding, coach. In more ways than one.
WR Lucas Taylor was also held out of practice. "Precautionary measures, nothing more than that," McDaniels said. "It was a coaching decision, and when they're ready and healthy and we feel good about where they're at they will be out on the practice field."
Marshall wouldn't be doing himself any favors by missing practice. The Broncos will be using his off-field incidents and injury history as leverage in trade/contract negotiations, so the skeptic in me wants to call BS. Is it possible Marshall was really with his agent, busy talking to the Broncos front office? Don't rule it out.