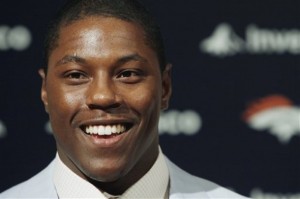 There was speculation as to what number Knowshon Moreno would wear for the Broncos being that his number 24 at Georgia is held by fellow Bulldog Champ Bailey.  That has been all put to rest as Moreno will be the first Bronco to don Darrent William's #27 since his tragic death back on the first day of 2007.  The number had been held from use out of repect to Williams and the events of his tragic death.
Moreno has already shown a great amount of character in going about the request.  Rather than lobby the Broncos, Knowshon placed a call to the Williams family to see if they would allow him to bring the number out of hiatus.  Darrent's mother Rosalind, after speaking with Moreno and coming to an agreement that the new Bronco halfback would spend time at the Darrent Williams teen center said she was more than happy to allow the rookie to take her fallen son's number. Moreno has already started wearing the 27 during the Broncos latest mini camp.
A classy way for the guy to start his career here in Denver, it's already helped endear himself to many of the fans.  I like the gesture and hopefully this brings the right kind of attitude to the locker room and team moving forward.