Posted Wed Mar 4th by Monty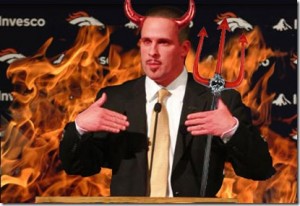 Congratulations, Josh McDaniels. You've earned yourself the dubious honor of being placed on the hot seat before ever seeing a football field as Head Coach.
The fans and media have spoken. From Pete Prisco of CBSSports.com, who says you're nuts for thinking of dealing Jay Cutler for Matt Cassel, to the fellow fans at KeepJayFireMcDaniels.com, who provided the loving image in your likeness – you've lost any patience or leniency as Head Coach. At least from this fan.
It's ironic. No one could deny that your predecessor, Mike Shanahan, was a great football mind and Head Coach — it was his personnel decisions that ultimately cost him his job. As bad as some of his calls were, he never, ever would have considered trading a quarterback of Cutler's caliber.
And that's exactly what you did. For an unknown period of time on Saturday, you were seriously considering trading Jay Cutler for Matt Cassel.
Let me say that I believe the media has blown this way out of proportion. I believe you and GM Brian Xanders were the group that turned down the deal for Matt Cassel, and I don't believe you instigated the discussions. The media is too in love with Bill Belichick to recognize that, and have just assumed that Mr. Cutoff Sweatshirt had to have been planning "something." Please. It makes much more sense that both the Bucs and Pats were willing to make the move while the Broncos wised up.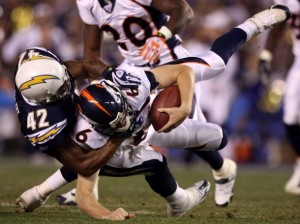 The problem is you should have turned a deaf ear from the start. Those trade talks shouldn't have made it past the word "Jay." You have the 2nd-ranked offense in the league and a Pro Bowl quarterback, wide receiver, and offensive line. Fix the defense; leave the offense – at least from a personnel standpoint – alone.
So here we are. It's March 4, exactly 52 days after you were hired as Broncos Head Coach, and a lot of fans are already calling for your head (see that web site above). I think firing you right now would be a huge mistake, and would severely set the team back for 2009.
So here's my ultimatum: if the Broncos don't win 7 games in 2009, I'll be joining the throng of fans calling for your head. If the Broncos lose 10 games, I won't be satisfied until another man is sitting in your chair.
I would have been patient enough with your plan to accept this season, no matter how it turned out. I love these free agency signings for the most part, but I know making such a huge transition on defense will take time. I was willing to be patient.
You've spent that cushion in my mind. Now I want results. I need results. You need to deliver in Denver this season or I'll be convinced you were the wrong man for the job. Punch the next ticket out of town. We've won without you before and can win without you again.
Struggle this season and I'll join the maddening throng. Win with us and all will be forgiven.