Posted Wed Jan 7th by Monty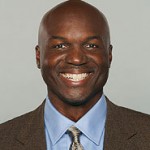 Perhaps Bill Parcells isn't coming to Denver, but one of his disciples just might.
The Denver Broncos have added a seventh name to their growing list of Head Coach candidate interviews – Miami Dolphins Assistant Head Coach/Secondary Todd Bowles. Bowles will interview with Owner Pat Bowlen and company on Thursday, Mike Klis of the Denver Post reports.
Bowles is a hot name in this offseason's coaching carousel. He joined the Dolphins after eight years as an NFL assistant, including three years with the Dallas Cowboys. Bowles helped the Dolphins secondary tally four more interceptions in 2008 than 2007 in his first year with the team.
Bowles is also a candidate for Head Coach openings in St. Louis and Detroit.
Another defensive-minded Head Coach candidate. After Bowles interviews tomorrow, the Broncos will have completed all of their known interviews. The coaching search is heating up, folks!