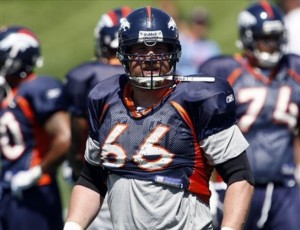 As news surfaced that former Denver Broncos tight end Shannon Sharpe would be one of the 15 finalists for the Hall of Fame — news of another potential Hall of Famer came to light. Broncos center Tom Nalen is likely to retire quietly by week's end.
Fresh off the only head coach he has ever known in the NFL being fired; Nalen is expected to retire as he played, silently. A former practice squad turned pioneer in the zone blocking scheme, Nalen will forever be remembered in Denver as the anchor to the team that pledged omertà to the media.
Although Nalen is not necessarily a first ballot Hall of Famer, he will most likely join several of his Super Bowl teammates bronzed in Canton, OH. It is not known at this point what caused the former Broncos center to decide that this was the best time to announce his retirement. Nalen participated in part of training camp prior to the Broncos 2008 season and was expected to play in the first game before being relegated to the injured reserve. He last played in 2007 before being placed on the injured reserve, all to never return.
Nation, place your favorite Tom Nalen memories in the comments section, along with your thoughts: at 37 should he have given Casey Wiegmann one more go at training camp? Is there a place for him on the staff? How will Nalen be remembered historically?