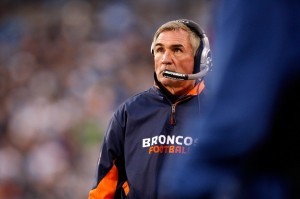 The big rumor hot off the presses at ESPN is that Jerry Jones is still committing to Wade Phillips for next season, but if they do not have success in the post season the team will bring in Mike Shanahan as the head coach for 2010.  Mike did sound like he could be taking some time off before moving on to another coaching position.  Also, it makes sense for the Cowboys financially if they hire Mike for the 2010 season.
Because his contract had three years remaining, Broncos owner Pat Bowlen owes Shanahan $20 million. Any owner who hires Shanahan could pay him a lower salary than the estimated $7 million a year he's owed and Bowlen would be obligated to pay the balance of that "offset."
Jerry Jones is committed to a three year plan with Phillips and Garrett as the OC.  But if Garrett lands one of the head coaching positions available in NFL this off-season, Jones may jump early and bring in Shanahan for 2009.  Jones would like Wade to stay on as the defensive coordinator but reports say that would be unlikely.  Wade Phillips has to be thinking to himself "deja vu all over again".
Shanahan told Sports Illustrated's Peter King that unless the perfect situation presented itself he would probably sit out the 2009 season.  Along with financial and timing aspects of the situation Jones and Shanahan hold the same affection for QB Tony Romo.  Shanny offered Romo more money as an undrafted free agent out of Eastern Illinois than the Cowboys, but the QB still decided to sign in Texas.  Could we be seeing our former head coach in Mile High as the opponent next season?  How odd would it be for Shanny to be on "The Boys" sideline with Garrett commanding the Orange and Blue?  The rumor mill is churning hard.