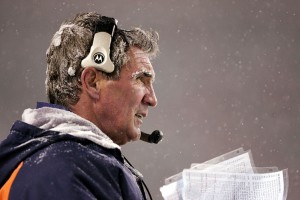 There is no doubt that the sails have set for change in Denver. After twenty-one years with the franchise, Mike Shanahan has been relieved of his duties with the Denver Broncos. I am both saddened by this news, but also optimistic. While Mike Shanahan is undoubtedly a Hall of Fame Head Coach, and one of the best to ever have called a game — it is apparent that after several years of mediocrity that not even his coaching prowess could head Denver in the right direction.
Shanahan deserves praise for a myriad of things regarding Broncos football. From establishing them as one of the premier franchises in the league and for the Super Bowl wins back in the 90s. Not to mention his offensive genius and the mutual admiration and respect he had with and for his staff and players for two decades. You won't find many coaches who are spoken of as highly as Mike Shanahan.
Despite the aforementioned, Shanahan deserves criticism in many regards. From blatant nepotism in hiring decisions and to an unheralded desire for power in the organization. Furthermore, a lack of commitment towards building a defense with an identity through the right and proper avenues. Some of these thoughts fans will disagree with, but I feel very strongly that said comments were very detrimental to the team, and undoubtedly played a role in his termination from the Broncos.
Mike Shanahan will always be remembered in Denver for all the right reasons. Honesty, integrity and a drive to win that is unparalleled in the NFL. Let there be no doubt that Shanahan will find another place to coach and continue along the road of success he has paved in his illustrious coaching career. Forever will he remain a staple in the identity of the Denver Broncos, and his contributions to the franchise and the city of Denver will always be remembered.
I became a fan of the Broncos in 1996, shortly after Shanahan was hired. He is the only coach I've endured. I will miss seeing him on the sidelines, I'll miss his swagger on the field and I'll miss his joking nature during press conferences with the media. One thing I won't do is forget everything he has done and I hope none of us do.
It's a new era in Dove Valley and I think it is one that should be welcomed. As the curtains close for one, they will open for another. We should all hope that the next coach of our beloved franchise will be "Like Mike."
Here is to all the best for Mike Shanahan and the Denver Broncos. The off-season starts with a bang. Lets keep it going.