Posted Mon Dec 22nd by Monty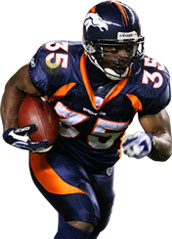 Another week, another Broncos running back to the Injured Reserve.
Oh wait, this time there's two.
Head Coach Mike Shanahan just announced in his weekly Monday press conference that running backs P.J. Pope and Selvin Young have both been placed on Injured Reserve, ending their respective years with one week left in the regular season and potential playoff berth with a win in San Diego on Sunday.
Pope tore his hamstring in the first quarter of Sunday's loss to Buffalo after rushing six times for 44 yards. Young ruptured a disc in his back in the third quarter.
Shanahan mentioned the Broncos would sign Cory Boyd back onto the practice squad, along with Alex Haynes, who was on the active roster earlier this season.
Pope and Young join Anthony Alridge, Michael Pittman, Andre Hall, Ryan Torain, and Peyton Hillis as other Broncos running backs to be placed on Injured Reserve this season. Did I forget anyone?