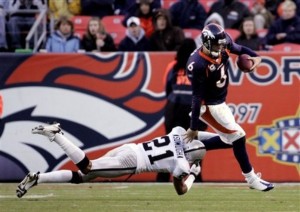 Another week, another… Bronco column. I was back to Beckett's for the third week in a row, I've met several Broncos fans (shout out to Waylon and that gorgeous waitress)- we've formed a bit of a monopoly in the corner of the upstairs area. So if you're in New York City, come join us. There are fans from everywhere, Harvard graduates, London footballers, men and women.
The loss to the Oakland Raiders brings me to something that I was going to write about a couple weeks ago- how am I going to justify to my girlfriend that she should spend her Sunday watching the Broncos with me? The women in our ragtag group of Colorado/Wyoming ex-patriots are dripping in sarcasm. For example, when Jay Cuter's full-screen "Mr. 4th Quarter," graphic popped up, it showed that Cutler has thrown eight touchdowns and two interceptions in the fourth quarter this season.
"So he throws an interception twenty percent of the time?" said the young lady sitting next to me- surprisingly, this wasn't the Harvard grad, but this does pretty much summarize why I love women.
Here are some facts, I'm going to give them to you straight:
When Denver has had the lead in the AFC West following Week 11 (which they do now) they've gone to the Super Bowl. Every time (except once) whether they won or lost that Super Bowl is another subject entirely. The only year they didn't go on to the big game was the 1978 season.
Tatum Bell is a bit of a curse, last time he started was Cutler's rookie season. The game which essentially knocked us out of the playoffs was the season finale versus the San Francisco 49ers (12/31/06). Against the Oakland Raiders he finished with six carries for 14-yards. Please, everyone, don't rush to pick him up off waivers in your fantasy leagues.
The Broncos have played 12 rookies this season, compare that to a team like the Kansas City Chiefs, who made it very clear that they were rebuilding this season- the Broncos, unless they completely fall on their face will be in the playoffs by years' end… With those 12 rookies still playing, the future's so bright, I gotta wear shades. We're not one draft away from being a contender, last season we were one draft away from being a contender.
Chad Jackson, Mario Haggans and Roderick Rogers all had significant playing time this game. With the exception of Rogers, was anyone really aware of the fact that Jackson and Haggans were on the roster?
Peyton Hillis has scored three times in the last two games.
As it stands, Denver will have the following running backs in their stable come the 2009 training camp: Selvin Young, Andre Hall, Michael Pittman, Ryan Torain, Anthony Alridge, Peyton Hillis, Tatum Bell and P.J. Pope. Let's draft a running back! Seriously though, screw character, let's get a guy whose friggin' knee can hold up for longer than three games. There are an awful lot of nice guys sitting on our injured reserve right now.
Don't be too mad we lost to the Raiders, it was basically our third-team defense, if you don't believe me go back to the training camp notes and see who was playing on what defense.
Nate Webster, D.J. Williams and Champ Bailey are all expected back for the New York Jets game.
Back to the words- I mused allowed that Denver could very well be an 8-8 playoff team, which would put them in a nice spot for the draft, while also letting us into that Russian roulette round known as the playoffs. Are we the Pittsburgh Steelers of 2005? I don't know, we might be if we could keep guys healthy.
Doom and gloom, that's for fans from Detroit, we're the other D city. This was Oakland's Super Bowl, we got tagged in a trap game, it's happened twice this season. People start mentioning MVP, Pro Bowl, Player of the Week and then Denver kind of makes a mess on the bed.
Here's the good news, Mike Shanahan's pissed, in his post game press conference he said, ""I think there was a lot of plays out there that people could have made, that they didn't make today. We had a few drops, and that doesn't help our quarterback. Obviously the interception [Cutler] threw doesn't help either. They challenged us man-to-man the whole game, and normally plays that we make the second half we didn't make. If we made those plays, it would have changed the momentum of the game. But congratulations to them, they did it, and we couldn't get it done."
Why is Shanahan pissed?
On what it felt like coming back to Denver, former Bronco receiver Ashley Lelie said, "It's like being wronged, like having your ex-girlfriend cheat on you, and then coming back and playing like this, is like getting her back. It felt good to come back and get a 'W' most importantly. But, playing well definitely makes it feel even better."
Now, another former Bronco/current Raider Gerrard Warren said that, "We just have to continue to build; getting a win against a divisional opponent is always big. Things are wide open, and we're not looking ahead, but if we were able to run the table, we might be able to squeak into the playoffs."
The Broncos played so bad that the 3-8 Raiders think that they have a chance at the playoffs…
Against Oakland- gone were the short passes, it was bombs away and Denver couldn't capture that lightening in the bottle that throttled them ahead in the game against Cleveland. Cutler played scared and after the game, he even threw his teammate Champ Bailey under the bus, "We knew they were going to come in and play hard. They played good defensively. They have the best cornerback [Nnamdi Asomugha] in the game. He takes away half of the field. They have a good defensive line and linebackers and they came out to play. They had a good game plan and they were smart about [it]."
Fact is, the Raiders, Chiefs, Chargers- whatever, they're better than they've played this season. The AFC West is the whipping boy this year, but check back in 2010 and this will be the toughest division in football. Denver will win against the New York Jets next weekend and I will spend this week trying to show you why. The thing is, I don't call Denver wins, I never guarantee a win, but I promise that Denver will beat the Jets…