Posted Sat Nov 22nd by Monty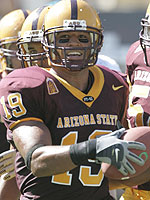 The Year of the Rookies continues for the Denver Broncos, as the squad announced that they have (finally) promoted seventh round pick S Josh Barrett from the practice squad to the active roster on Saturday.
Running back Alex Haynes, whom the club added last week, was waived to make room for Barrett on the roster.
Barrett (6-3, 225 lbs.) hails from Arizona State University, where he played 47 career games (27 starts) and tallied 174 tackles, six picks, 17 pass breakups and four fumble recoveries. Barrett played in all four preseason games for the Broncos, ranking fourth on the team with 11 defensive tackles and two special teams tackles.
The Broncos are skin deep at safety, especially with Marlon McCree out (see the Broncos-Raiders injury report). The three-headed running back tandem of Peyton Hillis, Tatum Bell, and P.J. Pope got the job done last week, so Haynes is left as the odd man out. I'm excited to see what Barrett can do at safety for the team, even if my expectations are a bit tapered at this point (frankly, our rookie class has spoiled us enough already).