Posted Tue Nov 18th by Monty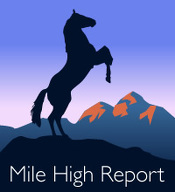 Anybody that's wandered 'round these parts has undoubtedly crossed paths with Mile High Report. MHR and BroncoTalk are like peanut butter and jelly, crackers and cheese, orange and blue. Their main man John – better known as TheSportsGuru – approached me with a brilliant idea to exchange Questions and Answers each week, alternating the interviewer and interviewee each time. To start this new Broncos blogging tradition, I asked John a few questions about the state of our Denver Broncos, the upcoming Oakland Raiders game, and our collective hobby in general.
Be forewarned — this is not for the faint of heart. Only die-hard Broncos fans that bleed orange and blue are equipped to handle what follows. Enjoy!
Overall, what's your opinion of the Broncos right now? Are they back to being winners, turning the corner past the slump of Weeks 5-9? Or is it still up-and-down, "you never know what you're going to get" with this club?
TSG – I think it is a little bit of both, though I believe Jay Cutler has finally learned that he needs to take care of the football. What is interesting about all the injuries on defense is that it might have actually made the Broncos a better defense. While some of these guys may not have the sheer talent of their injured counterparts, I think they might be more fundamentally sound. Linebacker might have gained the biggest upgrade in fundamentals with Boss Bailey and Nate Webster going down. Spencer Larsen proved last week that he can get it done with smart, heady play at MLB despite being "slow". Wesley Woodyard has also been strong for the Broncos and give the team a lot of flexibility with what it can do on defense.
On offense, Cutler has settled down and started to take what the defense is giving. While that has a lot to do with his growth, I think trust plays an important role in it as well. Trust in his defense and trust in his receivers. It also isn't a coincidence that the return of Tony Scheffler has returned the Broncos to their winning ways. Just having Tony on the field seems to help Jay's confidence.
What were your impressions of Spencer Larsen at middle linebacker? Is he the present and/or future for this defense?
TSG – That's the $10 million question, literally. While it is too soon to tell if Larsen can be a long-term answer, think about what it would mean if he were. The Broncos were assuredly going to look at a MLB in the draft this year, possibly as high as the 1st round. Big contracts and signing bonuses come along with that, hampering the team's ability to fill other holes. If Larsen can be a solid leader in the middle the Broncos would be able to use the pick, and money, elsewhere. It would be like gaining an extra pick since Larsen was drafted so late in the '07 draft. While the sample size is small(1 game), I think it was obvious to everyone that the kid gets the mental part of the game and that might be the most important for the QB of the defense.
You've mentioned a few times at MHR and in our weekly chats at the Rocky Mountain News that you believe the Broncos are in Year Three of Five-Year Rebuild. What do you think the Broncos need to do in the next two years to finish that process?
TSG – First and foremost they need their young players to continue to develop — Jay Cutler, Brandon Marshall, Eddie Royal, Ryan Harris, Ryan Clady on offense – Jarvis Moss, Jack Williams, Josh Bell, Marcus Thomas, Tim Crowder on defense. With that list you can see where the holes might be. I feel good about the offense as a whole, though time will tell if Kory Lichtensteiger can become the Center of the future for the Broncos. Defense is a bit worse off, but nothing another solid draft can't fix. The Broncos need a safety and they need another DT. A SAM LB might be in the cards as well. If the organization can hit another home run in the draft on defense, like they did in '08 on offense, this team should be primed and ready to go on a long run. A well-placed Free Agent acquisition, possibly a stud pass rusher, wouldn't hurt either. You can build a team using FA, but you can fill holes.
What would you have done differently this past offseason, and perhaps the year before?
TSG – I would have made a move to get Shaun Rogers or Kris Jenkins instead of Dewayne Robertson. I know there were financial considerations to think about, as well as giving up a 2nd or 3rd round draft pick, but those guys are both having solid seasons for their new teams. Particularly Jenkins in New York. The Jets have been a completely different team when he has been on the field. Other tan that move I can't really complain about anything the Broncos did. I am not big on building a team through free agency, and I think the ideology of the Broncos changed a bit, focusing more on youth and the draft and less on "experience" and age. This has helped the Broncos this seson overcome some of the injuries.
The Raiders come to town this week. What worries you most about this game against our archrival?
TSG – Everything! The Raiders are a talented team, especially in some areas that give the Broncos trouble. Darren McFadden made it through last week healthy and will likely get a lot of carries. With little-to-no threat of a passing game, however, the Broncos should be able to focus strictly on trying to stop McFadden and Justin Fargas. The Raiders are having issues defensively as well, but we all know what the great equalizer can be – turnovers. We need look no further than our home-game against the Raiders in 2007. The Broncos jumped out to a 17-3 lead before a penalty took a TD off the board for the Broncos. A long TD pass, safety and pick-6 later the Raiders were right back in the game. The Broncos need to play with the same 60 minutes of effort they have shown against Cleveland and Atlanta to keep the winning streak alive. One thing the Broncos are not good enough to be is a team that takes possessions off and expects to win.
What's your favorite part about blogging Broncos?
TSG – Easy one – The Greatest Fans in the World! Like you, I am a displaced Broncos fan, and getting to meet so many Broncos fans from all over the world has been a truly rewarding experience. It goes to show that the Broncos DO have a huge following all over and that fans from every part of the world can find a single passion to bring them together regardless of personal beliefs. That is as good as it gets for me!
Thanks Kyle and to everyone at BroncoTalk. Next week, I'll have some questions for him…….GO BRONCOS!