Posted Tue Nov 18th by Monty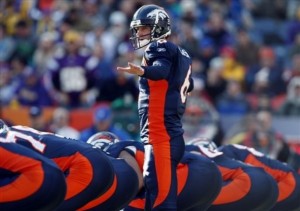 Jay Cutler has returned to dominance behind the Broncos o-line. (AP Photo)
It was the first game in Ryan Clady's young career where he was – at times – having a bit of difficulty handling his man. That is to say, he wasn't dominating his opponent and shutting him completely out of the picture like he has his entire career thus far. Give the Falcons credit – John Abraham has been doing that to top-tier tackles all season long. But the rookie, along with right tackle Ryan Harris, still held their ground.
Jay Cutler was only sacked once the entire game, when a jailbreak blitz saw three different Falcon defenders swarm over the Broncos quarterback. Even then, Clady's man was the third on the scene.
The Broncos moved Cutler around in the pocket, giving the Falcons' pass rush trouble, as ESPN's Scouts Inc. discusses in this article:
The Broncos used a sliding pocket in pass protection to make it more difficult for the Falcons to know where the quarterback was. This slowed down the Falcons' tenacious pass rush and allowed Broncos QB Jay Cutler to throw on the move outside the pocket, which he does very well.
But it wasn't just the pass protection that helped the Broncos. The return of the run game may have made the biggest difference in the passing game.
The Falcons' defense could not contain the Broncos' ground game with their base front seven. Defensive coordinator Brian VanGorder had to bring up extra defenders to crowd the box, which opened things up on the back end for Denver's powerful passing game. When their front four can't pressure the pocket, the Falcons struggle on the back end because they are lacking top cover corners.
That's the key folks – getting the running game going so that the passing game doesn't have to do all the work. That's how the Denver Broncos and Mike Shanahan won two Super Bowls; it's how we've won as many games as anyone in the league over the past ten or twelve years. This offensive line just had its best day of run blocking to date. If we can keep that type of performance up, the Broncos won't just be playoff-bound – they could make a run deep into January.