Posted Sun Nov 16th by Monty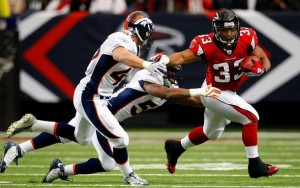 Rookie Spencer Larsen started at both middle linebacker and fullback for the Broncos. (Getty Images)
Rookie Spencer Larsen is the Broncos' backup fullback, behind fellow rookie Peyton Hillis. Larsen is also the third string middle linebacker. It's not very often that a player in his position on the depth chart is able to make as big an impact as he did today.
But this rookie, this 6th round pick, was asked to play double-duty Sunday, and he stepped up in a huge way. Larsen started at both positions, fullback and middle linebacker, offense and defense, and led the Denver Broncos (6-4) to a 24-20 victory over the Atlanta Falcons (6-4) in Week 11 NFL action.
The road victory breaks this season's West Coast-to-East Coast curse and keeps the Broncos in sole possession of the AFC West lead.
Larsen's presence was immediately noticeable on the field. The Broncos defense was flying at the football, keeping Atlanta running backs, who had averaged over 150 rushing yards at home, to under 100 rushing yards. The Broncos' own rushing attack, meanwhile, found its ground game for the first time in nearly a month, totaling over 120 yards.
Larsen blocked and plowed the way for the best Broncos' rushing performance in weeks. He flew sideline-to-sideline and gave Denver its best defensive stand in weeks.
Spencer Larsen, why have you been buried in the depth chart all this time?
Combined with a victory in the turnover margin – how long has it been since that happened? – and the Broncos banged-up offense and defense were able to take home a much-needed victory in Atlanta.
The Broncos are now 6-4, atop the AFC West, and will turn their attention to the rival Oakland Raiders who will stumble into town this week. The 2nd place San Diego Chargers must come away with a win in Pittsburgh to keep their season alive.