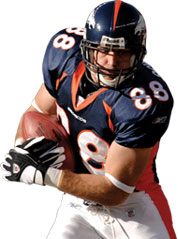 Denver proved once again to the world that they are a tight end-oriented offense Thursday night against Cleveland. The media stars Marshall and Royal certainly pull their fair share of weight, but sometimes we fail to see what truly glues our offense together.
Everyone noticed Tony Scheffer's presence back on the field. Scheffler helps us win games, and that's the bottom line. Four passes for 92 yards is great for a tight end. Scheffler gives the Denver offense that other option that it had been missing in the past few games. Frankly, in my opinion, Scheffler's absence didn't just hurt the offense, it nearly killed it. Take a look at these numbers:
With Tony Scheffler: 5-1
When TEs get 20% or more of the passes: 5-0
With 3 TEs having receptions: 3-0
With 2 or less TE having receptions: 1-4
Percentage of TE receptions against Cleveland: 40%
Now consider how much Brandon Marshall and Eddie Royal bring to the table. Their tenacity and drive help us get down the field but take a look at these stats:
When Marshall catches 60 yards or more: 3-3
When Royal catches for 60 yards or more: 2-3
When Scheffler catches for 60 yards or more: 4-0
After looking at those numbers it's hard to say that we aren't a tight end dependent offense. Defensive backs can't ignore Tony Scheffler and if they do, the scoreboard lets them know. With Scheffler back it pulls coverage off of Royal and Marshall and helps the offense run like the highly tuned machine its supposed to be.
Mike Shanahan has always utilized tight ends from the legendary Shannon Sharpe, to the forgotten, yet efficient, Jeb Putzier. Just look at how many times we have cut Chad Mustard on and off the team, Shanahan knows the importance of tight ends.
Denver Fans – lets cross our fingers and hope the 6'5 – 250lb man beast stays healthy as long as he can. Our offense needs him for this division title run.