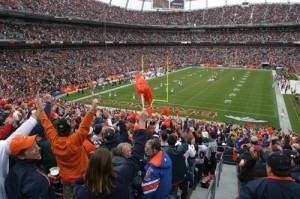 Hello Bronco Nation, this is East and I will be guest posting today. First off, I would like to thank Kyle for giving me this opportunity to give you all this post about the best freaking franchise ever to be created. It's mid week now so it's about that time us Denver fanatics scour the whole web for any story that will help Sunday come faster. So here I am, feeding your blue and orange furnace.
Now I know that I speak for all Denver fans when I say that the game in Cleveland is one that our hearts desperately needed. However, our heart rates start to rise and our sanity starts to lower the closer we get to Atlanta. Facing this turn-around-team will prove to be difficult, but if the Broncos show up to play this will prove to be another nail bitter for the umpteenth time this season. Let me try to gauge for you what we love, but more importantly what we need to improve.
The things we loved
Jay Cutler
What can I say about this man? Actually, I can't say enough. When you throw for 400+ yards and 3TDs in a game you deserve AFC Offensive Player of the Week. However, despite his flashy stats he did other things that impressed me more. He made great reads; he found Scheffler, Graham, Jackson, Royal, Marshall, and Stokley. Cutler also won our hearts this game by minimizing turnovers, he did have the one interception but Marshall did break from his route so we can't be too harsh on him. In Cleveland Cuter strayed away from forcing the ball to his target, let's hope that this future Pro Bowler is starting to learn his lesson.
Tight Ends
Ed Note: East made some brilliant points on Tony Scheffler – so brilliant, in fact, that they deserve some front page space (so I can pretend I thought of it – just kidding). So I'm making an executive decision and will feature this section in its own post. Stay tuned for that!
Things we need to work on
Running Backs
Who would have ever thought that running backs would be in this category? I don't like the signing of Tatum Bell morally, but hey, I'm just a blogger what do I really know about Bell's situation? I guess it's time to give him a second chance. Bell had his moments in 2006 and Denver's eyes will be looking for him to hit those homeruns once again. I am intrigued by Alex Haynes and P.J. Pope; Denver has always been successful with unsigned free agent running backs. However, what I'm dying for is to see Peyton Hillis get the ball in his hands via a screen pass. Hillis should be used how the Eagles use Brian Westbrook and the Saints use Reggie Bush (and was in the Miami game). Hillis has speed and power, I have no doubt that he can truck over for the first down or even better, the touchdown.
Defense
It pains me that I can't subcategorize this subject into smaller things like "Getting to the passer", "Stopping the run", or "Stopping the pass." The sad, sad, sad fact is that we are having trouble do all of these things. Despite injuries we have been playing about the same perhaps even a bit better. D.J. going down pains me, especially in his pro-bowl like year, but you just have to love Wesley Woodyard, I hope he gets all the practice in the world while D.J. is gone.
Champ Bailey
He wants to come back to the ATL, this should scare Denver fans. He said that his groin injury was worse than the one the put Mike Anderson out for a whole entire season. Sure, Champ has used modern medicine, however he is not 100% and if he hurts himself even worse because he had to play in his hometown, I'm sure he won't forgive himself for it.
Jarvis Moss
Moss rides the thin line of bust. However, he registered 2 sacks in the Miami game. There is no denying that he is a physical beast, but he is definitely not a defensive end. Moss needs to be used as an outside line backer immediately. He has the speed, size, and strength of Shawne Merriman (actually he's faster). Who does he have to compete with in our myriad of injured linebackers? Taking Louis Green or Jamie Winborn out a snap or two every now and then couldn't hurt or defense anymore than it already hurts. This all boils down to the defensive coaching, they need to start using the players they have in the right positions. Give the man a chance.
Before I sound off
My condolences to Glenn Martinez… you and Denver had a good run. I hope to see you picked up sometime in the near offseason… just to be cut again.