Posted Thu Oct 23rd by Monty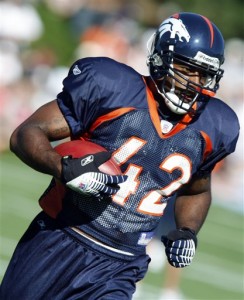 The bye week has always been Denver Broncos rookie running back Ryan Torain's target week to see the football field. The elbow injury he suffered in training camp has sidelined him all season, but practicing last week was a good sign that Torain would be ready soon.
If his latest blog post is any indication, Torain is ready to go. Now. He's spending his bye week with the training staff, preparing for a debut Sunday in Week 9 against the Miami Dolphins.
Torain says if his number is called, he knows he'll be ready.
I don't know if my number is going to be called against Miami when we're back at home. All I know is I've just got to stay focused, stay on top of my game, and if Coach does call my number I know I'm going to be ready 100 percent.
With Selvin Young sidelined and Andre Hall's recent batch of fumble-itis, Torain's debut couldn't come at a better time. Michael Pittman has been running very well lately, but when he needs to be spelled, Torain would provide a dynamic 1-2 punch. Give him between 5-10 carries next Sunday, and let's see what this kid can do.