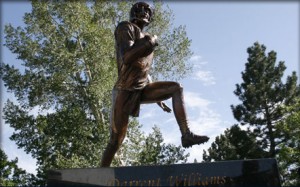 KOA Radio is reporting that the Denver Police Department held a press conference at 4:15 today and announced that Willie Clark was handed a 39 count grand jury indictment as the sole defendant for the murder of Denver Broncos cornerback Darrent Williams.
Williams was the victim of a drive-by shooting in downtown Denver on January 1, 2007. He had just finished his second year with the Broncos.
Clark was indicted in April on cocaine charges stemming from what police have called the largest gang takedown in Colorado history. Among Clark's 39 charges is another charge for first degree murder.
I am pleased to hear that this case is continuing to progress. I hope that he's really the guy and I hope he pays.
Charges in Bronco Williams' murder [Denver Post].