Posted Fri Oct 3rd by Monty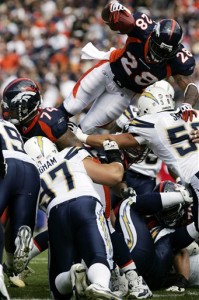 Michael Pittman has surprised at tailback with 4 touchdowns. (AP Photo)
The BroncoTalk Staff is grading the Denver Broncos through the first four games of the 2008 season. Here's our take on the rushing attack. We invite you to give your grade at the bottom of each post as well. Enjoy!
Rush Offense – Staff Grade – B
Jonathan (B-) – I think we need some consistency in the backfield. I like Young and Hall, but I'm going to say something I never thought I would… but… Could Pittman be the answer at tailback? He was great against KC compared to Young and Hall and he's been our goal-line guy all season long. Why not give him a bit more carries and see what happens. Whatever happens, we need to get more consistent production from our RB's. Without consistency, opponents are already starting to lose their fear of our running game. That will allow them to focus on defending the pass which could really hang up our offense. If we could create a threat of the run, our whole offense will open up again.
Josh (C-) – This is has been the weak spot of the offense this year. We're not seeing the breakout player in Selvin Young we thought we would have by now. Pittman has been the surprise for me personally. I really thought he might be a has-been signing and camp casualty or something similar to fellow Buc Simeon Rice last season. Pittman has been the team's ultimate role player. He's been great in red-zone carries and making plays on 3rd down out of the back field.
E. Halsey Miles (B) – Rush offense gets a B. We're still having the problems we had last year with a lack of push from the O line on the power running game.
Ian (A-) – A very modest 121 yards a game, puts Denver at 14th in the NFL. Not a place that's normal for a Denver team, but that's mostly due to new offensive scheme that uses the run game to spell the passing game, not vice-versa. Selvin Young is averaging 6.2 yards per carry and Andre Hall is averaging 4.9, not bad at all. This to me shows that the game is still there, just laying dormant. The greatest part of all those numbers is 4, that's how many touchdowns Michael Pittman has. What a surprise he has turned out to be scoring once for every game that he has suited. I also don't want to give away too much, but fans have yet to see the best back Denver has in the stable. It looks like Ryan Torain may be able to suit by the week seven against the Patriots. The legendary Denver rushing game still exists, but remains unsheathed as of yet. (A-)
Kyle (B+) – We're a pass first team, but when we do tote the rock we're going for over 6 yards per carry. The term running-by-committee has been used before, but the Broncos are redefining it – literally three running backs are splitting carries and moving the football. The offensive line isn't as strong in the running attack, and none of our RB's look capable of hitting the "home run," so I give them a B+ with the easy possibility to jump to an A with a little more commitment to the running game and a more aggressive approach up front.

Loading ...