Posted Wed Oct 1st by Monty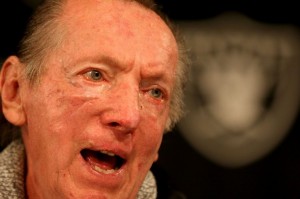 Getty Images
Only Al Davis. The Oakland Raiders owner holds a press conference announcing the firing of Head Coach Lane Kiffin. He's more interested in detailing the dysfunctional and failed relationship between himself and Kiffin than moving forward and discussing the future of his team. As an afterthought, he mentions offensive line coach Tom Cable as the interim coach. The entire Raiders season – and organization – is falling apart at the seams as Davis details how pathetic the Raiders really are.
In the midst of all this, Davis, the cranky ol' curmudgeon that he is, makes sure to fire a pot shot at his former employee Mike Shanahan. HIS ORGANIZATION IS FALLING APART, coaches are being fired and hired, players are learning more behind-the-scenes details than anyone could care for… and there's Al Davis, letting loose another senile moment among countless others:
"When Shanahan left me, he went to Denver. He was there for about four or five years as an assistant and they fired him for insubordination," Davis said. "Dan Reeves and he had a big battle. He went to the 49ers and he learned their style of football and when Dan Reeves failed in Denver… he brought Shanahan back. And Shanahan had success. But Shanahan has an asterisk next to those two Super Bowls, because they were caught cheating."
Davis is, of course, referring to this, which we've already detailed plenty well here. In summation, the Broncos deferred payments to John Elway and Terrell Davis in order to offset the costs of building the stadium now known as Invesco Field at Mile High. These were technically described as salary cap infractions. The Broncos were heavily fined and penalized, but it's crucial to point out that the team gained no competitive advantage for these moves. At face value, most people infer that the Broncos bent the salary cap to "keep more talented players," but that's simply not the case and we invite you to read THE FACTS in the links provided.
He also detailed the situation with Patriots wideout Randy Moss, saying his days in Oakland were over once Kiffin signed on. They tried to send him to the Packers and even the Broncos, saying "Even Denver, where they'll take anybody, turned (Moss) down."
The Raiders' season is caving in on itself, and Al Davis still reminds us of his bitterness towards the Broncos. That says something about how intense this rivalry is, and how strong the hatred is that each team has for the other. It also says something about how sad and senile Al Davis really has become. In the past, the Raiders were a team to be reckoned with, a storied franchise that did its fanbase proud. Davis was a big part of that. Years later, it's clear Al Davis doesn't quite "get it" anymore.