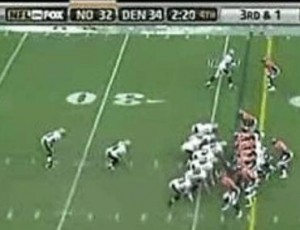 Jamie Winborn showing too much effort? (FOX-TV)
More complaints in Denver about officiating are surfacing, PFT is citing a source, "With knowledge of the situation." They should just admit that they watch ESPN too. New Orleans Saints' head coach Sean Payton has officially complained to the NFL that Denver linebacker Jamie Winborn lined up offsides on a crucial Saints' 3rd and 1 play.
The ball was snapped, with no flag thrown, Drew Brees handed the ball off to running back Pierre Thomas was then stuffed- D.J. Williams was credited with the tackle. That D.J. Williams, the one who plays opposite the strong-side (where Winborn lines up). The Saints then lined up for a 43 yard field goal attempt, which eventually kicker Martin Gramatica shanked. 
What's not known is why Coach Payton did not simply take the ball and go home, following what he believed to be a missed call. He obviously knows how it goes in Denver.