Posted Mon Sep 15th by Monty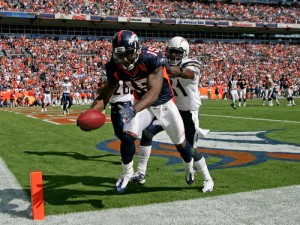 Getty Images
Broncos 39, Charger 38. This longtime-vanilla rivalry has turned spicy, bitter, and downright vile in the span of two division games. Last December, San Diego Chargers QB Philip Rivers jawed at Denver Broncos QB Jay Cutler on Monday Night Football in a much-YouTube'd display of immaturity. In yesterday's September Week Two showdown, things got even nastier, with the stakes higher and Chargers fans crying foul at referee Ed Hochuli and his controversial judgment.
I've gotten emails from Chargers fans, and some from Broncos fans, declaring that the Chargers were robbed. Broncos fans even "feel bad" for winning this game. You're entitled to your opinion, but let's separate those from facts right here and now. The bottom line is plain and simple. The Broncos and Chargers are the two best teams in the AFC West. Hold your head up high, Denver – on Sunday, regardless of who "was robbed," the better team came out with a 'W.'
The Champ Bailey interception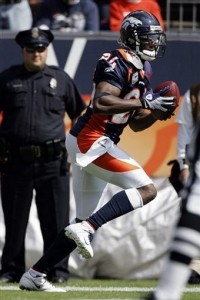 Champ Bailey returns a Philip Rivers interception. (AP Photo/Jack Dempsey)
The first-quarter malfunctioning replay equipment will probably never sit right with Chargers fans. CBS announcer Randy Cross didn't help the matter – I understand it's his job to give his take on a given play, especially one under review, but declaring it a given result to an audience of millions tainted the viewpoint of everyone who watched the play.
Look again. Rivers throws a ball that lands right between white and blue jerseys. Broncos CB Champ Bailey has his arms around that ball just as much as Chargers WR Chris Chambers. Did Chambers have "more right" to the ball than Bailey because he was the intended receiver? Not at all. Both men came down with a part of that football, and Champ came away with it. The ruling on the field was an interception – and it should be. Had the ruling been a fumble, forced and recovered by Bailey, Chargers fans would have a leg to stand on. Look at the final stat sheet and you'll see Champ Bailey. One interception.
Even with non-"
malfunctioning equipment," the play would have been upheld. The refs got this one right, end of story.
The Jay Cutler fumble/incomplete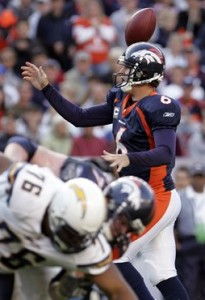 Jay Cutler botches the play in the 4th quarter. (AP Photo/Jack Dempsey)
Jay Cutler fumbled the football with 1:14 left in the game, with only Chargers linebacker Tim Dobbins in the vicinity to recover before the ball went out of bounds. However, before Dobbins got his mitts on the ball, referee Ed Hochuli blew his whistle, declaring the play dead, believing it to be an incomplete pass. Had he not blown the play dead – standard operating procedures, as they say – the Chargers would have recovered, ended the ball game, and claimed victory in INVESCO Field at Mile High once again. No one here is arguing that point. The refs blew it. The Chargers would have won had the ref not f'ed up.
Some would call it "tough luck," but I wouldn't even go that far. It was amazingly simple, pure, blind luck that gave the Chargers anything to cry over anyway. This Broncos offense had been firing on all cylinders up to that point.
So if you really want to make a BFD about this, Charger nation, go ahead. Oh my goodness, the play you couldn't make on defense – because the Broncos offense KICKED YOUR ASS – just happened before your very eyes. The Kid makes a dumb mistake, and the Chargers should have won.
Damn, wouldn't that have been really nice, to have been gifted a win like that? You would have won the game purely on luck. But a bit of karma bit you in the ass and the ref blew the play dead. Your good luck goes out the window and we're even.
And so we're back to football. You're still leading with one minute left. Luck had nothing to do with Jay Cutler striking Eddie Royal in the end zone for six. Luck had nothing to do with Mike Shanahan's ballsy – and more importantly, incredibly smart – decision to go for two. Luck had nothing to do with Royal being open again ON THE SAME PLAY.
So tough luck your blind luck didn't amount to a lucky break, Chargers fans. Get over it. You still had a chance to win the game between the stripes. Broncos fans, you have nothing to apologize for or feel sorry about. Hold your head up high. We caught a lucky break, but capitalized on it, too. I feel damn lucky to be 2-0 right now, but damn proud just the same.
If the Chargers "should" have won this game, they would have. Win next time. Enjoy your two-game hole in the AFC West, and see you in December.