Posted Tue Sep 2nd by Monty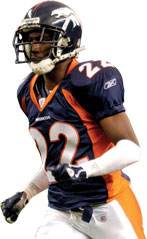 The Denver Broncos have traded Domonique Foxworth to the Atlanta Falcons for a conditional 2009 draft pick, CBS4 Denver reports.  The Falcons have agreed to give the Broncos a 7th round draft pick in return for Foxworth's services.  The pick can elevate to a 6th rounder if Foxworth re-signs with the Falcons before April's draft.
A trade involving Foxworth has been rumored for months, culminating in the news Monday that Foxworth was sent home from practice to wait to be traded.  Foxworth was classy about the situation, and now he'll have a chance to compete for a starting job in Atlanta.
A third round draft pick in 2005, Foxworth has played in 46 of 48 games for the Broncos, including 18 regular season starts.  He also started both of the Broncos' postseason games in 2005.  Since playing predominantly cornerback in his rookie season, Foxworth was moved all over the defensive backfield in 2006 and 2007, with time at safety, corner, and nickel back.

With the additions of Marlon McCree and Marquand Manuel at safety, 2008 was looking to be an opportunity for Foxworth to return as a cornerback, particularly in nickel packages.  Now he'll be playing in Atlanta, where incidentally he'll face his former team (along with K Jason Elam) in Week 11 of the regular season.
The move leaves four cornerbacks on the Broncos roster – starters Champ Bailey and Dre Bly, draftmate Karl Paymah (the only remaining pick from 2005), and rookie Jack Williams.  Last year, while Foxworth was playing safety, Paymah came in and played as the #2 corner in nickel situations, with Bly moving to nickelback.  It'll be interesting to see if this same lineup stands in 2008, and if the Broncos fill Foxworth's roster spot with another defensive back for depth.
I can't stand this trade. What is with the Broncos burning the midnight oil in the offseason? Last year, it was the trade of Gerard Warren and the addition of completely useless Simeon Rice. This year, we're trading high-quality offensive lineman Montrae Holland for a fifth round pick in 2010, and our third corner for an even later round pick in 2009. Neither move makes any sense, and I'm tired of scratching my head. It hurts. Please, please, Mike Shanahan, stop valuing second day draft picks over solid depth. We're a hamstring pull away from not even having a dime package.
Thanks for your efforts, Foxworth, on and especially off the field. The Darrent Williams Memorial Teen Center probably wouldn't exist without you. Best of luck in Atlanta.