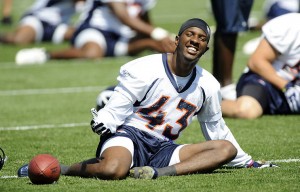 Roderick Rogers (photo John Leyba/The Denver Post)
Today the Denver Broncos released sarfety Roderick Rogers to make room for their waiver claim of Calvin Lowry. The Broncos also had a waiver claim on former New Orleans Saints guard Andy Alleman, however, Alleman will be heading to the Miami Dolphins; as they also put a claim on him. Overall six teams including Denver put a claim on Alleman.
Busy day in Denver as the Broncos also signed Travis Wilson a wide receiver to their practice squad. Wilson spent training camp with the Cleveland Browns and was expected to be the third receiver on their depth chart. Wilson was drafted in the third round by the Browns in 2006. He was also one of two players featured in the documentary film Two Days in April which is available via Netflix and several other online outlets.
In former Denver Bronco news, cornerback Deltha O'Neal has signed with the New England Patriots and as one of our posters predicted in this post Ashley Lelie is now an Oakland Raider.