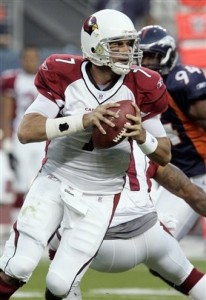 Before we move on to the regular season we have to play our toughest game of the year – our last preseason game. I say that because more players are cut after this game than any other single game of the year… and that makes it tough.
This is a game that every non-starter of the Broncos must see as their best (and possibly last) time to show the world what they can do. This weekend every team must cut their roster down to a trim 53 man squad. That means Friday night's game against the Cardinals will be the last time some of our players wear a Broncos uniform. However, even if they don't make it onto our roster, having a great game tomorrow evening might get them a spot on another team. I expect that we will see a lot of heart-felt football passion on NFL fields this weekend and I wish everyone good luck!
And with that, let's get to some thoughts and predictions…

*****
The Niko Show –
Nate Webster has won the starting job… so he will not play tomorrow. That means Niko Koutouvides will get to run the defense for much of the game. Since the race is over, this will be a GREAT game to watch Niko as he is not auditioning – just playing.
We'll also get plenty of time to watch some of my preseason favorites like Jamie Winborn, Wesley Woodyard and Jordan Beck.
Prediction: I think Nate is a good choice for starting MIKE LB. I never really bought into the mystique of Niko. And I don't currently think he's just 'slow & steady' rather than 'passionate & wild' (no offense TSG). However, with that said, I think we could see Niko's BEST game so far Firday night. I know it will only add fire to a MIKE controversy among fans and the Denver media, but I have a feeling that's what's on tap.
*****
Backup D-line: Rotation
With Dewayne Robertson, Marcus Thomas, Elvis Dumervil and John Engelberger all scheduled to sit out this game, we'll get to see a lot of our backup playes on the D-line.
Prediction: I am pimarily interested in what these guys can do because it will hint at our true depth along the line. We tend to rotate these linemen to keep them fresh and to adjust for passing vs rushing downs. That means we WILL be relying on players we see tomorrow evening to step up and fill in. A good preformance from our second and third teamers along the D-line will go quite a way toward proving to me that we have the needed depth to win the war of the trenches this year.
*****
O-line Backups: Why the heck give up Holland? –
The O-line doesn't rotate in and out like the D-line does (unless you count TE's), so our depth at these positions has more to do with safe-guarding our team against injury. However, since the Broncos traded away Montrae Holland (the best backup we had), who does that leave us with behind the starters.
Prediction: We need to see some players step up this weekend so I don't lose any sleep over our (apparently) thin O-line. Someone (I don't care who) impress me! Please!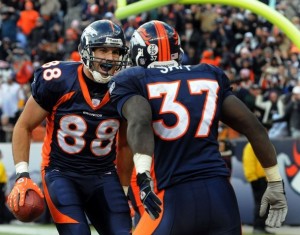 Tony Scheffler's Night –
Last week I predicted Nate Jackson would have a highlight reel catch and he caught a nice TD versus Green Bay. This week I look for Tony Scheffler to step it up. Tony has been running behind Jackson and Daniel Graham this off-season, but I think he'll get plenty of looks from Ramsey and Hackney this weekend. It will be important for Scheffler to step up and deliver when his chances come around.
Prediction: I think Tony is Cutler's favorite TE target, so I don't believe Tony is on the cutting block. However, he needs to prove to Shanahan and his coaches that he can be that explosive player they believe he can be. I look for him to have a very good night. Look for him in the endzone on Friday.
*****
Wideouts on the bubble – Stokley & Russell have a big night –
Eddie Royal and Brandon Marshall will be taking the night off. Behind them we have Darrell Jackson, Brandon Stokely, Glen Martinez, Clifford Russell, Keary Colbert and Marquay McDaniel. Jackson and Stokley are getting a final roster spot. Martinez will also likely get one. That leaves us some interesting battles between the remaining WR's.
Prediction: I see Stokley making some big plays this weekend, but more importantly, I'm looking for Clifford Russell to impress some people and carve out a roster spot.
*****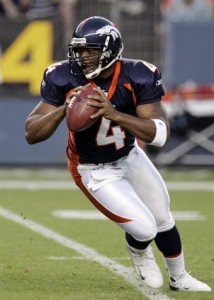 Hackney vs Ramsey –
Patrick Ramsey needs a good outing to silence his nay-sayers. Darrell Hackney needs a tremendously awesome night if he wants to knock Ramsey out of his spot and take the #2 slot behind Cutler. Even then, I don't foresee it happening… Ramsey's experience will likely make him more appealing to the Bronco's head brass than Hackney's preformance in the last preseason game.
Prediction: Much to most of our fan's dismay, I think Ramsey will have a pretty good night on Friday. Either way I don't think the fans or the media will let it die, but there you have it.
*****
BONUS PREDICTION #1: Anthony Alridge breaks away and it's off to the races!
I know it's against 3rd and 4th stringers, but how cool would it be to see this kid blow past the DB's and take one to the house?
BONUS PREDITION #2: Special Teams Shocker! –
Just like TD in Tokyo, there is always a chance for a player deep on the depth chart to make a big impression with the coaches. No where on the team is it more likely to happen than on Special Teams. So, watch those coverage units folks!
*****
P.S. If you want to catch the Denver game nationally, you'll need to catch it on the NFL Network at 10pm (EST).
GO BRONCOS!
(Photos 1, 3: AP/Jack Dempsey. Photo 2: Steve Dykes/Getty Images)