Posted Fri Aug 15th by Monty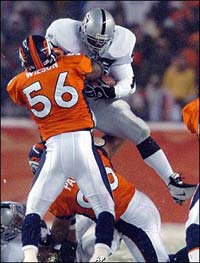 After a four-year hiatus, the Denver Broncos will be wearing their orange alternate jerseys in 2008 – not once, but twice. The Denver Post reports that the jerseys will be worn during home games against the New Orleans Saints in Week 3 (Sept. 21) and against the Kansas City Chiefs in Week 14 (Dec. 7).
The last time the Broncos wore the jerseys was in 2004, in the game you see pictured left. That's perhaps my favorite Broncos photo of the post-Elway era, even though the game ended up in a heartbreaking loss. (Darius Watts, just catch the damn ball!) The Broncos have never won a game in the jerseys since switching uniforms in 1997.
I've been dying to see these in action again. This just made my day. But what do you think? Let us know in the poll and comments.

Loading ...