Posted Mon Jul 28th by Monty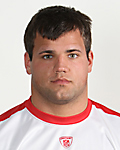 Denver Broncos rookie fullback Peyton Hillis sat out the Monday morning practice with an injured left hamstring, according to the team's official blog. The 2008 7th round draft pick out of Arkansas has had a great start to training camp thus far, with many fans in attendance predicting he'll trump incumbent Cecil Sapp for the starting fullback job by Week 1.
He was working with TE Chad Mustard on the sidelines, who's sitting out with an injured hamstring of his own. These can be nagging little suckers… luckily I'm hearing that he should see the field as soon as tomorrow.