Posted Fri Jul 18th by Monty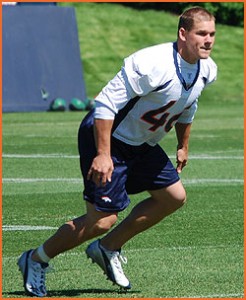 Name: Spencer Larsen
Height, Weight: 6'2″, 240
Position: Linebacker
Age, Experience: 24, R
College: Arizona
Spencer Larsen was drafted by the Denver Broncos in the 6th round (183rd overall) of the 2008 NFL Draft. He played both outside and inside linebacker for Arizona, taking two years off to serve a Mormon mission in Chile in 03 and 04. A fullback in high school, the Broncos tried him out at the position during mini camps this year before announcing that he would remain a linebacker at the Pro level.
The Good: Larsen has all the intangibles you look for in a pro player. He has great instincts and is a smart, overachieving guy with a good head on his shoulders. He'll work his tail off for the Broncos and is a natural team leader, serving as a two-time team captain for the Wildcats. Tallied 131 tackles to lead the PAC-10 in 2007. Various scouting reports indicate he's above average at shedding blocks and would be a natural run stuffer.
The Bad: Physically, Larsen won't blow you away, especially with his speed. His 40 time (4.98) hurt his draft value, and his athleticism in general has been questioned. His flexibility really seems to be the major concern – without fluid hips and quick feet, he can't keep up in coverage, and his tackles lack the power you'd like to see. Without decent speed and power, Larsen will struggle to adjust to the NFL's pace and physicality.
Status: Special teamer. Signed through 2011. It's curious that the Broncos insisted on trying him out at fullback – was that their intention all along? I'll be honest, I haven't quite figured this guy out, and if there's one draft pick that doesn't make the team it'd be him. He'll have to light it up on special teams. Spencer Larsen was born on March 4, 1984 in Mesa, AZ.
As always, we invite you, the readers, to partake. Will Larsen impress in 2008, or is he lacking the physical toolset to succeed?

Loading ...
We hope you enjoy these posts as BroncoTalk continues to develop the first fan-powered Denver Broncos roster on the web.