Posted Thu Jul 17th by Monty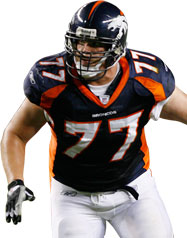 Name: Chris Kuper
Height, Weight: 6'4″, 302
Position: Tackle/Guard
Age, Experience: 25, 3
College: North Dakota
Chris Kuper (KOO-per) is a third year offensive lineman for the Denver Broncos out of the University of North Dakota. Drafted in the fifth round (161st overall) of the 2006 NFL Draft, Kuper made the active roster in his rookie season but was declared inactive or sat the bench in all but one game. In 2007, Kuper entered training camp with the edge at earning the starting right guard spot; ultimately the spot was won by free agent acquisition Montrae Holland before the start of the season. Listed 3rd on the depth chart at left guard, Kuper ended up starting 11 games at the position after Ben Hamilton and Tom Nalen both went down to injury (Chris Myers, the backup center, took over for Nalen, leaving his LG spot open). A versatile player with the ability to play at several positions, Kuper is currently penciled in as the Denver Broncos' starting right tackle, and will compete against 2007 draftee Ryan Harris to keep the spot.
The Good: Kuper's versatility has made him a valuable asset in two years with the Broncos. In college, Kuper's first three years were at guard (getting limited snaps in his first year). His senior campaign saw Kuper move to the outside (a move necessitated by injuries on the offensive line), and Kuper started all 13 games at left tackle. His efforts earned him All-America honors from the Associated Press in each of his final two seasons. At the pro level, he's been predominantly injury free and durable, fighting through a thigh injury in the later part of 2007 to stay on the field. He struggled through most of the year, but he showed flashes, with the final contest against the Minnesota Vikings arguably his best performance in the NFL to date.
The Bad: Kuper had quite an up and down season. His first game against the Steelers was solid, but he followed that performance with a string of struggles and mistakes in the weeks to follow (most recognizably his drive-ending, fumble-causing shuffle on Monday Night football against the Packers with the Broncos only a few yards from the end zone). The declining play of Matt Lepsis surely didn't help, but there were missed assignments and poor technique in several of Kuper's starts.
Status: Competing for starting job. Signed through 2009. Chris Kuper has shown the type of flashes you hope for in a young player, but I'd like to see his consistency improve in his third year. Chris Kuper was born on Dec. 19, 1982, in Anchorage, AK.
As always, we invite you, the readers, to partake. Will Kuper step up in his third year, or did his struggles last year leave you doubtful?

Loading ...
We hope you enjoy these posts as BroncoTalk continues to develop the first fan-powered Denver Broncos roster on the web.