Posted Wed Jul 16th by Monty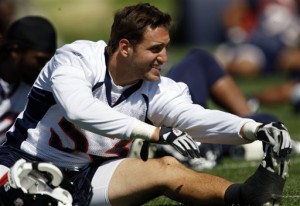 Name: Niko Koutouvides
Height, Weight: 6'2″, 238
Position: Linebacker
Age, Experience: 27, 5
College: Purdue
Niko Koutouvides (Koo-tuh-VEE-deez) joined the Denver Broncos as an unrestricted free agent in 2008. A fourth round draft pick by the Seattle Seahawks in the 2004 NFL Draft, Koutouvides has played predominantly special teams thus far in his career. The Broncos brought him in to compete for a starting job at middle linebacker after last year's Mike, D.J. Williams, moved back to the weak side.
The Good: Koutouvides has been one of the top special teams players in the NFL in his brief career. In four years with the Seahawks, Kouts tallied 60 special teams tackles, good for 7th in the NFL over that span. He's a big-time hitter with great instincts. He's also well disciplined and a hard worker – all the intangibles you like in a potential leader for your defense.
The Bad: Koutouvides won't blow you away with his speed, and he's not the athletic freak of nature the Broncos had with Williams or Al Wilson before 2007. Some scouting reports indicate he has trouble shedding blocks, which could become a real problem if our opponents can mirror 2007 – plow through our defensive line like nobody's business, then eat up linebackers. His limited starting experience is a natural concern.
Status: Competing for starting job. Signed through 2010. The Denver Broncos coaches and staff brought Koutouvides to Denver with the intention that he become the starting middle linebacker. They paid him starter money and all but announced him as "the man." Already, though, some first team snaps have been taken from him by Webster in the team's mini camps. He'll have to earn the job in training camp. Niko Koutouvides was born on March 25, 1981, in Plainville, CT.
As always, we invite you, the readers, to partake. Is Kouts a Top-32 middle linebacker in this league, or is he a stop gap solution until we draft a stud early next year?

Loading ...
We hope you enjoy these posts as BroncoTalk continues to develop the first fan-powered Denver Broncos roster on the web.