Posted Thu Jul 10th by Monty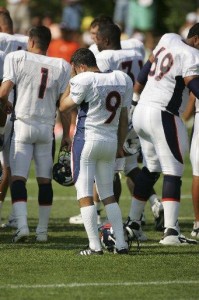 A Few Seconds of Panic
by Stefan Fatsis is quite simply a gem of a book.  On one level, it's a story of a too old, too short, too thin, and too inexperienced man giving his all for a chance to kick in the NFL.  On another level, it's an inside look at an NFL team that most have never seen before.  The fact that this NFL team happens to be the Denver Broncos makes the journey all the more enticing.
At first, many of his teammates are understandably put off by Fatsis and give him the cold shoulder.  Because Fatsis is not "just another reporter," and is working hard to become a credible kicker, many soon open up to him.  They reveal the paranoia of losing playing time due to injury.  They discuss their frustration at not seeing the field.  Depth chart politics are fluent throughout.  For all but the elite veterans, the fear of being cut always sits on the back of their minds.  Everyone loves Sundays, but that only happens 20 times a year.  Most of these players, the ones who aren't getting paid the big bucks, simply hate their jobs.
All the while, Fatsis is performing thousands of repetitions, trying to perfect his craft.  The pressure he faces likely pales in comparison to the pressure of a real kick during game time, and Fatsis knows this, but it's still a heart stopping event whenever Head Coach Mike Shanahan calls his name to the field.  By the end, you'll find yourself cheering for Fatsis just as hard as you would any other Bronco in uniform.

My only gripe, and it's small at that, is that at some points, the book can almost feel too honest.  I understand that was the point – the author was aiming to shed some of the glamour and legend from an NFL player, and he accomplished that in many ways.  It was still disarming on some levels to hear about your favorite players caring less about winning than their next paycheck.
You'll learn new details involving some of the biggest news stories to hit the Broncos the past two years.  I learned that former GM Ted Sundquist wasn't on board with benching Jake Plummer for Jay Cutler in 2006.  I learned that Brandon Marshall took a fist the night Darrent Williams was murdered, and that Javon Walker drove around Denver aimlessly for hours before a teammate brought him into team headquarters.
On a lighter note, I'll take some things with me from this book that will connect me with players in new ways.  I learned that Tony Scheffler can tell a mean joke. P.J. Alexander owns what has to be the coolest coffee mug ever. Chad Mustard could probably destroy me at Scrabble. Jason Elam is a psycho hunter/thrill seeker, and Jake Plummer will dirk my ass (Jake Plummer is simply awesome throughout).
A Few Seconds of Panic is hilarious and entertaining, and I highly recommend you check it out.  Now. Go get it, via Amazon
or otherwise. To all NFL fans, or simply to fans who crave a good underdog story, A Few Seconds of Panic is a Must Read.  For fans of the Denver Broncos, it's a Can't Live Without.