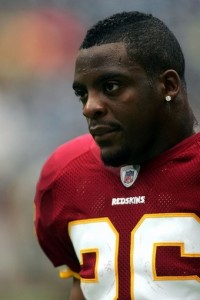 So I came home and fired up the DVR to watch NFL Total Access being that the Broncos were featured today.  If you haven't already seen this series, it's basically game by game highlights spreadout through the program for the 2007 season of whichever NFL team the show is covering on that particular day.  They also throw in a special segment directly related to the team they're covering.  I'm not sure if it was coincidence or planned that Clinton Portis was guest anchoring on the show today.  In any case, it turned out to be useful to have our former runningback providing his insight.
Can I just start off by saying that I was actually impressed with Portis on the show?  Not that he was a complete well of knowledge on all things football, but he was defintely classy.  After the way things ended in Denver with Clinton wanting a new contract before his rookie deal was up and getting traded to the Skins for Champ, I would've thought he still harvested bad feelings for Denver.  This either is not the case, or he does a good job of being professional and covers it up.  While going through the first segment of games in the 07′ season, the home game against Oakland came up with Shannahan's famoust time-out call to nullify the game winning field goal.  Rich Eisen plays it to Portis "What do you think of coach Shannahan's call?"  Portis replies back "I think it was a great call by Mike Shannahan.  You see it being copied around the league now."   It was this along with nothing but praise all episode for Denver.  Portis is largely viewed as a self centered type of guy by many of the Denver faithful, but just seeing the way he carried himself went a long way to changing perspective.  Sounds like the trade worked out best for all the parties involved.  Being raised by two generations of Redskins fans myself, I'm glad to see it.
With that said, a lot of the 2007 review was pretty weak.  It was enjoyable to see condensed highlights of almost every game.  It's easy to let things slip out of memory quickly.  The NFL Network seemed predetermined to show our losses rather than our wins.  They held out the two wins over the Chiefs along with our shootout against the Titans.  They did spotlight our win against Pittsburgh, a game which many fans will agree was our best of the season.  One thing that stood out after watching the span was how many close games we lost.  Looking back on it, we were easily 5 plays away from being a playoff team last year.  The Jacksonville and Green Bay games are good examples.
They finished up the show with a nice demonstration of the Broncos zone blocking scheme.  You can watch it here.  This is where it was extremely useful to have Portis on the show.  He knows the ins and outs of the system and was able to break it down.  The segment also delves into why teams cannot stop this running attack even when they know it's coming.  I especially like Clinton's response to Eisen's comment about defensive players loathing the cut block.  "They gotta get up, find a way around it."  All in all the coverage wasn't bad, and you can watch Portis being his usual goofball self if you like.