Posted Fri Jun 20th by Monty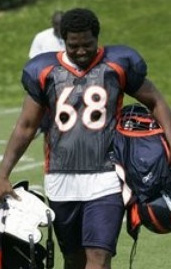 Name: Steven Harris
Height, Weight: 6'5″, 305
Position: Defensive Tackle
Age, Experience: 23, 2
College: Florida
Steven Harris is a 2nd year player who joined the Denver Broncos as an undrafted college free agent in 2007. Part of a migration of Florida Gators that year that included first round selection Jarvis Moss and fourth round pick Marcus Thomas, Harris sat on the practice squad for much of the year before being activated in Week 14 against the Chiefs.
The Good: Started his pro career strong with a fumble recovery against Kansas City. The play ended the contest between the Chiefs and the Broncos. He tallied 3 tackles against Houston the next week, then assisted in one tackle in the last two weeks each to finish the year. Harris has some versatility to him, starting all 12 games for the Gators as a defensive end in 2005. After moving to defensive tackle in 2006, Harris was awarded the James Kynes Award as the Gators' most oustanding lineman.
The Bad: His impact is minimal thus far, but it's hard enough for a rookie defensive tackle to make an impact on the playing field, let alone an undrafted one. Harris will be competing with Mallard, Carlton Powell, and Kenny Peterson for the 4th and 5th DT spots behind Thomas, Dewayne Robertson, and Alvin McKinley. If he doesn't break the roster, the Broncos can still keep him on the practice squad since Harris was only activated for four games last year.
Status: Backup.  Potential camp fodder.  Signed undisclosed contract in May 2007.  Harris has his work cut out for him in training camp. Let's see if he steps up. Steven Harris was born on August 14, 1984, in Homestead, FL.
As always, we invite you, the readers, to partake. Are there enough Gators on the Broncos defensive line, or do you think Harris will step up?

Loading ...
We hope you enjoy these posts as BroncoTalk continues to develop the first fan-powered Denver Broncos roster on the web.