Posted Mon Jun 9th by Monty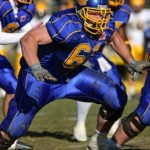 Name: Mitch Erickson
Height, Weight: 6'6″, 285
Position: Guard
Age, Experience: R, 23
College: South Dakota St.
Mitch Erickson signed with the Denver Broncos as an undrafted free agent in 2008 out of South Dakota State. Erickson started at either guard or tackle for all 44 games in his career with the Jackrabbits.
The Good: Erickson was voted the team's offensive MVP in his senior year, a year in which SDSU only allowed 12 sacks and averaged 34.2 points per game. Erickson was a first-team All-Great West Football Conference selection during each of his final three seasons and received first-team All-America honors from the Associated Press as a senior..
The Bad: Erickson's combine workouts were average at best. He ran a 5.32 40-time, to go along with a 4.45-second short shuttle, a 7.45-second three-cone drill, a 32 1/2-inch vertical jump, a 9-foot broad jump while completing 29 reps on the 225-pound bench press. The real knock on him, though, is his size – a full 15 pounds below 300, Erickson needs to add weight to compete at the pro level, regardless if he's playing with the Broncos or not (Denver generally values lighter O-linemen).
Status: Potential camp fodder. Signed undisclosed contract April 2008. It would surprise me to see Erickson make the roster. His best bet is to make the practice squad and compete for a roster spot next year. Mitch Erickson was born on May 14, 1985, in Hutchinson, MN.
As always, we invite you, the readers, to partake. Does Erickson's production outweigh his measurables, or is the uphill battle he's facing too steep?

Loading ...
We hope you enjoy these posts as BroncoTalk continues to develop the first fan-powered Denver Broncos roster on the web.