Posted Mon Jun 2nd by Monty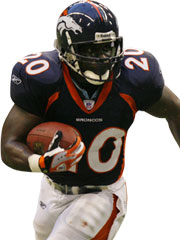 After one injury-plagued and suspension-dominated season, Travis Henry is no longer a member of the Denver Broncos. The team announced this morning that Henry was released, citing a lack of commitment in a prepared statement.
"Although Travis has the ability to be one of the top running backs in the NFL, we have to make decisions that are in the best interests of our organization and its goal of winning a Super Bowl," coach Mike Shanahan said. "We did not feel his commitment to the Broncos was enough to warrant a spot on this football team."
Many speculated after the initial signing that Henry could excel in the Denver running system, with the potential to gain upwards of 1,500 yards. Those predictions did not come to fruition in 2007, where he gained 691 yards (4.1 average) and 4 touchdowns in 12 games.
The Broncos recently signed Michael Pittman, who now looks likely to play a role with the Broncos this season.