Posted Fri May 30th by Monty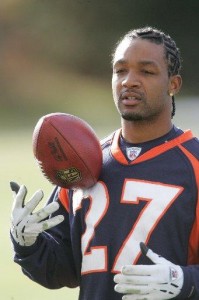 Please head on over to the Rocky Mountain News, where the paper has obtained a copy of a letter that is strongly believed to have come from gang member Willie D. Clark. Clark has been named several times in the murder investigation of former Denver Broncos cornerback Darrent Williams.
In the letter, intercepted by a former cellmate of Clark's and given to both the RMN and law enforcement, Clark fears that someone saw him shoot DWill's car, and fears that that person will talk to the police.
The authenticity of the letter appears to have been confirmed. A handwriting analysis expert has declared that this letter and others from Clark are from the "same writer, period."
Clark is currently in jail on pending drug charges.
Since the murder of Darrent Williams on January 1, 2007, police have had extensive troubles lining up witnesses because of the danger those witnesses would be in. The shooters come from a violent gang in Denver that has (directly or indirectly) intimidated anyone with evidence to such an extent that no one has come forward, to this point.
At the moment, the source of the letter is in fear of his life and is hoping that the state can improve the measures taken to keep him safe. He is unwilling to testify until he and his family receive more adequate protection.
If you are a person who prays, please pray for the source's safety, and for the potential witness involved. Pray that this is the first step to obtaining justice in the Williams case.
We'll keep you posted.
Letter implicates Bronco's killer [Rocky Mountain News]