Posted Sun Apr 27th by Monty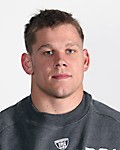 The Denver Broncos started out the draft by addressing the offense with 3 consecutive picks. Now, 3 of the past 4 have fallen on the defensive side of the ball, as the Broncos added linebacker Spencer Larsen to their depth.
Larsen was the "heart and soul" of the Arizona defense, and has a lot of upside. He didn't wow at the combine, but his production in college was high, and he was reportedly feared by opposing offensive coordinators for his attitude and versatility. Full scouting report.
The Broncos have two picks left in the 7th round of the draft. Keep up with us at the live blog chat by scrolling below.