Posted Fri Apr 25th by Monty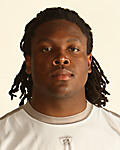 In 2006, the Denver Broncos had a rare opportunity to take a player that could single handedly alter the fate of the franchise. Jay Cutler, the young quarterback out of Vanderbilt and top of the Broncos board, was slipping down the draft. By a lot of pre-draft maneuvering, chance, and a bit of luck, the Broncos were in a prime position to make the move to get their guy.
I believe the Broncos are in a similar situation this year. The need: a dominant left tackle – the second most important position on the football field. Ahead of them just happens to be Ryan Clady, left tackle out of Boise State, who is such a good fit in the Denver Broncos system he could break the mold of typical Denver offensive linemen and start in year one.
The positives: Terrific balance and footwork. His agility is top notch, and his football knowledge has garnered praise from several different scouts. One scout talked about how enamored he was with Clady's knowledge of playing left tackle: on angles, on the different moves and blitzing schemes, and on maintaining balance at the point of attack. They praise his ability to keep his knees bent and to not allow his feet to stray too narrow or wide. His experience in a zone blocking system the past several years will help him to hit the ground running in Denver. His hand work is superb as well – with his long arms he knows how to lock up his opponent in pass protection, which is his greatest strength. He's blessed with a huge motor also, and he has the type of tenacity and mean streak that will remind fans of Tom Nalen long after the potential Hall of Famer has retired.

The negatives: Well documented are his low Wonderlic score (13) and his poor showing against Washington in week 2 of the 2007 season, where he was penalized on 4 consecutive plays. Also, many have said he might not be the vocal leader some teams are looking for. Physically, his lower body strength has been voiced as a repeated cause for concern, and many scouts suggest he gain 20 lbs. to play at a more dominant level in his run blocking. Playing the WAC also has some scouts and fans concerned that he could be a risky pick, although he did play against top talent out of conference, including several clutch plays in the 2007 Fiesta Bowl that led to the Broncos' undefeated season.
Responding to the negatives: I could honestly care less about his Wonderlic scores. What matters to me is his knowledge on the football field, and as listed in the paragraph before, he has top notch "FBI" (football intelligence). His lack of vocal leadership hardly concerns me either. This is the Denver Broncos we're talking about, remember? Until the league mandated it last year, our offensive linemen didn't even talk to the media! … The concerns about his lower body strength are legitimate, but it wouldn't be difficult for him to increase his drive blocking skills in Denver. To me, the bigs games he has played well offsets the weaker conference games, making that a wash.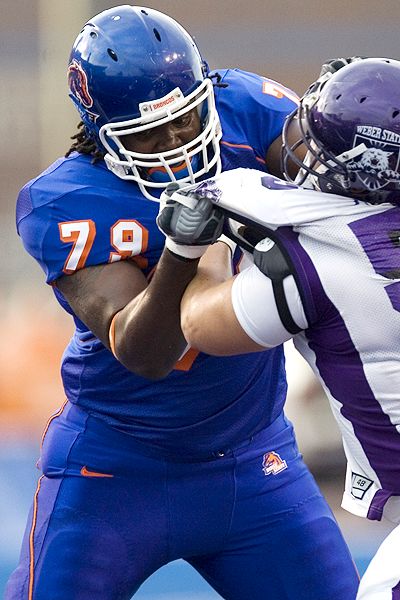 The intangibles: I've watched various chats and interviews with Clady to try and get a feel for his personality. The guy has a huge chip on his shoulder, and wants to prove that he deserves the first round grade. He mentions how he was recruited as a defensive lineman coming out of high school, and that he's taken pride in proving his doubters wrong. He's a straight shooter to boot.
I've explored the different ways the Broncos could miss out on the Ryan Clady sweepstakes several times – which is why I tell you in all seriousness that I am hoping the Broncos trade up to make sure they get him.
If Clady falls past the Chiefs at 5 (it's possible he might not, but I think he will), then the Broncos have a chance to move up and take him. I would offer the New England Patriots cornerback Domonique Foxworth and the 12th overall pick for their 7th pick. I'd take Clady and then sleep like a baby.
If they don't, there are several teams who could easily make this move instead. Baltimore at 8 stands out – I'm beginning to even get the impression that the Ravens would pass on quarterback Matt Ryan if he fell that far, instead opting to take a franchise left tackle in Clady. The other possibility is that the Chiefs could use one of their four picks in rounds 2-3 to move up from 17 and select Clady at 10 or 11.
Another possibility is the St. Louis Rams, who have reportedly been in heavy talks with the New Orleans Saints about trading the 10th and 2nd overall picks. If the Rams drop to 10, they would certainly be in the running for Clady.
I like Chris Williams out of Vanderbilt a lot – I think he could be a good to very good tackle for years. But he's not as perfect a fit as Clady, and his upside is significantly lower. To me, the difference is enough to warrant moving up and drafting Clady.
Finally, I know trading Foxworth won't be a popular choice among the readers – I'm torn about it too, but I really see no other way. The Broncos are high on Karl Paymah, who played as the #2 cornerback in nickel situations at the end of last year. Foxworth is the 4th corner on our roster. Trading from depth to acquire a starter – a possible Pro Bowler no less – makes all the sense to me in the world at the end of the day.
If I were running the Broncos draft, that is exactly what I would do. I see talent in Clady I know I might not see again for years, and given the success of the Broncos franchise over the years, I know the team might not be in this favorable draft position again for awhile.