Posted Tue Apr 22nd by Monty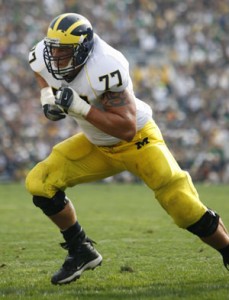 Now that the Dolphins are settled on Jake Long at #1 overall, how does that affect the rest of the draft? In particular, how does that affect the Broncos' plans this year?
It's well known how fluid and dynamic the draft can be. One surprise move can completely shake up the next 10 or so picks – sometimes more – and in this case, I think the Broncos could be sweating a little bit more.
Just look at last year. Joe Thomas was rated very high on a lot of boards, but no one was certain if the Lions or Browns would pull the trigger. Some thought he would then fall down to #5 and the Arizona Cardinals. Instead, of course, the Browns did select Thomas (great move), but what really interests me is how the Cards reacted.
They still took an offensive tackle, someone a lot of people had slated in the 8-12 range, Levi Brown. With Long off the board now this year, will other teams follow suit?
I think now the Chiefs definitely are a little more tempted to take a guy like Ryan Clady or Branden Albert. I've expressed my thoughts on the two several times over (in brief, I like Clady. Albert not so much). All 3 could even be gone, depending on where Matt Ryan falls.
And to me, that's when things really get interesting. If Ryan goes to Atlanta or 3, or Kansas City at 5, how much more likely are the Ravens to taking the best offensive lineman on the board?
The draft shakeups could continue through the week, as now the St. Louis Rams can start negotiating with different prospects at #2 overall.