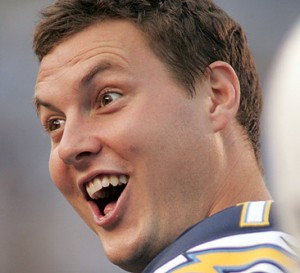 I'm not sure how many of you woke up yesterday to this love fest for Philip Rivers by the Denver Post's own Jim Armstrong.  He basically goes into a sixteen paragraph rant about how Rivers is currently the cream of the AFC West QB crop and how the other 3 quarterbacks don't even compare.  The piece also has a round about way of bashing Jay Cutler with back handed comments and contains excerpts that slaver to Rivers like no other.
Frankly, given the state of the AFC West these days, Rivers has every right to chirp.

When it comes to quarterbacks, Rivers is the man for all seasons in the West. He's the best quarterback in the division and the most experienced. He has won 25-of-32 starts and twice taken the Chargers to the playoffs.
The problem with Mr. Armstrong's article is that it's severely lacking in realistic individual statistics.  He uses team records to compare the two.  Rivers does have the better team record being 25-7 compared to Cutler's 9-12. But he doesn't take into account that Rivers inherited a team on the cusp of the playoffs finishing 9-7 in 2005.  He has arguably the best running back and tight end playing the game behind him.  Many experts think it was a mistake to ever let Drew Brees go to New Orleans.  Armstrong makes the assertion that there is a large disparity between River's game and the remaining three starting QBs in the division.  (Cutler, Russell, Croyle)
At the moment, it isn't a close race. Not between the Chargers and the other teams in the West, and not between Rivers and the other quarterbacks in the division. But Mike Shanahan is hoping things tighten up in 2008, when Cutler will embark on his third NFL season.
I don't think so Jim.  Lets look at the individual statistics for the only full season the rivals played against each other to see how much of a disparity there is between Jay and Philip.
2007 Individual Quarterback Statistics
Total Yards [Cutler – 3497]Â Â Â  [Rivers – 3152]
Completion Percentage [Cutler – 63.6%]Â Â Â  [Rivers – 60.2%]
Yards per attempt average [Cutler – 7.49]Â Â Â  [Rivers – 6.85]
Longest Pass of the Season [Cutler – 68yrds]Â Â  [Rivers – 49yrds]
Touchdowns [Cutler – 20]Â Â Â  [Rivers – 21]
Interceptions [Cutler – 14]Â Â Â  [Rivers – 15]
QB Rating [Cutler – 88.1%]Â Â  [Rivers – 82.4%}Â Â Â Â Â Â Â Â Â  (the most telling)
This doesn't look like a close race?  It looks like a real close race with Cutler in the lead!  Also to compare Cutler to on and off again starter Croyle and a holdout who only played five games in Russell is ridiculous.  I thought it was sad the only complement for Cutler came from River's own coach Norv Turner.  I could go on about intergrity, sportmanship and leadership qualities but I'll let the numbers speak for themselves.