Posted Fri Apr 18th by Monty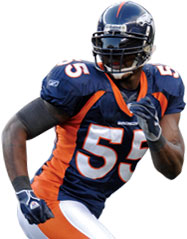 The BroncoTalk breakdowns continue, and today we're tackling linebackers (instead of the other way around). We'll tell you why we should draft one in the first round, why we shouldn't, and then ask you in the polls. Enjoy!
If there's one position the Denver Broncos and Mike Shanahan have simply nailed as far as first rounders are concerned, it's linebacker. They've spent 3 first round picks on this position, as many as any other position in Shanahan's tenure, and each one became great players for the Broncos. John Mobley, Al Wilson, and D.J. Williams are among some of the biggest success stories in the last decade of Broncos drafts, so drafting a linebacker would follow a road to success the Broncos haven't necessarily enjoyed in other years past.
With the Broncos' piss poor run defense last year, the argument is strong that drafting a highly talented linebacker would improve this defense from the start. While the Broncos added a few pieces to the linebacker corps, one is a career backup and the other has serious health concerns. Arguably the need is there.
Even if the impact isn't for this year, the Broncos need to address the linebacker position soon. This is Williams' last year under contract, and while the franchise tag is always a possibility, some speculate that Williams might be looking for greener pastures elsewhere after being moved all around the football field. He's played every position possible as a linebacker, and even admitted that he was frustrated to an extent about the constant shuffle. It's important to note too, though, that D.J. was clear to praise the Broncos team and coaches, and also spun it nicely by saying it allowed him to do a lot of learning at the pro level. Will he be willing to resign? This offseason would be the ideal time to do it.
So the question I'm asking is this: Are the Broncos certain they have a single stud at LB, not this year, but in 2009? Break it down with me. D.J. isn't under contract past February 09… Niko Koutouvides has upside, but that's about it without seeing the field yet… Boss Bailey is an athletic freak of nature, but injury concerns are valid… worst case scenario, D.J. hits free agency, Bailey busts his knees, and Kouts doesn't quite cut it. I'm not betting on this to happen by any means, but looking at each situation individually, is it so hard to believe some of these events will occur?
The point is that the Broncos can't be sure any of the linebackers on their roster are long term answers toward a championship team. The quickest way to change that, especially considering how the Broncos draft so well in the area, would be to take a linebacker in the first round of the 2008 NFL Draft.