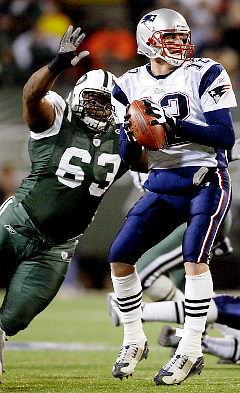 While I was posting the weekend edition of the daily links yesterday, I totally missed this piece of news in the Mike Klis article. I would've thought the Denver Post would have a dedicated a whole article to news this big. (That's what I get for posting right before bed)
The next three weeks at Dove Valley will be devoted to the draft. The Broncos have the No. 12 and 42 overall picks on the first day, April 26.

On the second day, the Broncos hope to use one of their late-round picks to acquire Jets defensive tackle Dewayne Robertson.
It looks like we're going to be addressing our need at defensive tackle in the draft one way or another. Could this be changing our draft strategy in the early rounds? The team might be addressing skill positions in rounds 1 and 2 by having the team's certain need in the middle of the defensive line taken care of ahead of the draft.