Posted Thu Apr 3rd by Monty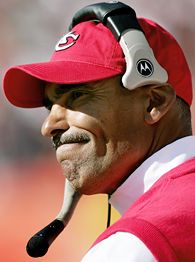 I was listening to a sports talk radio show at work today when the hosts started comparing the situation with the Broncos to the situation with the Chiefs. Then I heard this (semi-quoting here): "Herm Edward embraces rebuilding mode."
I can only take it that the hosts were trying to imply that the Broncos needed to embrace this same mode as well. Allow me to disagree.
For me, "rebuilding mode" has always been a big excuse. "Well, we would have won, but we were in rebuilding mode." How in the hell do you expect your players to give it their all, coach? Are you planning on announcing when you're suddenly going to try to win? "Alright everybody, we can go out and try now, it's time to be competitive!"
Mike Shanahan isn't the same way. It's well known you'll never hear him mutter the 'R-word.' And thank God for that. Like me, Shanahan has nothing short of the Lombardi Trophy in his sights every single season. I don't care that we went 7-9 this season; the Giants and Eli freaking Manning just went from an 8-8 team to Super Bowl champs. Why can't the Broncos do the same?
The draft can make a big impact on any team… we've already filled some holes in free agency. With a home run draft anything is possible.
Have fun rebuilding, Chiefs fans. I'm not giving up on 2008 just to prepare for '09 and beyond.