Posted Thu Mar 20th by Monty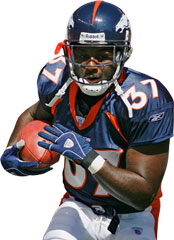 The Denver Broncos have come to an agreement with fullback Cecil Sapp, the Denver Post reports. According to the article, Sapp signed little (if any) more than a veteran minimum contract for one year at a $605,000 salary and $40,000 signing bonus.
"This will be 10 years for Cecil in Colorado," said Dave Canter, Sapp's agent. "He's got family there. He's got a child there. He's got close friends on the team. And in a sense he feels like there's unfinished business there. He had opportunities in a few other cities and he's really flattered. In one place in particular, they offered him more money. But Cecil told me, 'I could make more money playing football elsewhere, but I may not have the experience or the closeness that I have in Denver.'"
Last year, Sapp was tendered as a 2nd round restricted free agent, earning $1.3 million. Sapp's agent cited Denver's touchy financial situation as another reason they were willing to sign for so low, even though he claims they received a larger offer elsewhere.
Good.  One less thing, although I still want an upgrade with a 4th or 5th round pick on draft day.