Posted Wed Mar 5th by Monty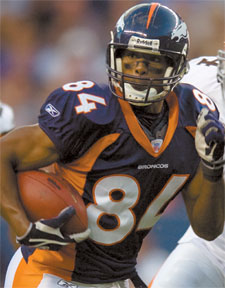 The aftermath of the Javon Walker six-year deal is making the rounds of the Internet, and the consensus is clear – this deal is easily the worst signing by a team in the past 5 years – and possibly ever.
"Tommy Kelly looks like a bargain now. Javon Walker's six-year, $55 million contract, with $27 million available in the first three years, was onerous in so many ways. It's the single most shocking contract I've seen in the last five years." — Rotoworld.com
When an oft-injured defensive lineman's hypersaturated $50 million contract looks like a bargain, you know you've overspent. Then this one, from the NFL Official Site no less:
"Since last Thursday, the Raiders have doled out more than $144 million in contracts to defensive tackle Tommy Kelly ($50.1 million), safety Gibril Wilson ($39 million), and Walker ($55 million).

"The final one came Tuesday night, when the Raiders and Walker's agent, Kennard McGuire, agreed to a deal that instantly became the talk of the league as the single-most stunning free-agent contract this off-season — maybe ever." — NFL.com
Doesn't that just put a sick, twisted smile on your face, Broncos fans? We're laughing all the way to a season sweep while Javon Walker is laughing all the way to the bank.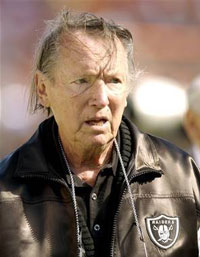 It begs the question – why would the Raiders be overpaying so much for injury-prone receivers and defensive linemen, to the extent and numbers that current record-setters are earning? The answer is pretty simple – how else are they going to lure anyone into Oakland?
The funniest part is that, even if Al Davis is only going to lure talent with huge amounts of money, they're still going above and beyond simply "overpaying."   Suppose the Raiders are insistent that they want to guarantee Javon's services. Would any other team in the league even offer half that contract? Half as much, possibly – I could see almost-as-crazy Cowboys owner Jerry Jones ponying up 4-5 million per year. But 9 million?! I had no idea Davis was that senile.
How do you justify it? If you're going to overpay someone, at least have a reason for the extreme contract. Something the player can provide that's like icing on the cake. Javon Walker has a bum knee and major character issues. He's made a single Pro Bowl three years ago and has almost entirely missed two seasons due to injury since. The Man Who Just Retired, AKA Mr. Perfect, couldn't stand the kid!
Even now, it's still hard to wrap my head around this deal. The only logical explanation is that Davis is trying to pull this dying franchise down to the grave with him.