Posted Wed Nov 21st by Monty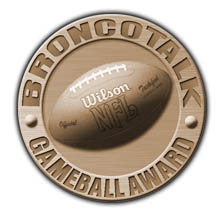 Another solid win for the boys. It's already time to focus on the Bears but these Game Balls still gotta be divied. Who ya got?

Earl – Jamie Winborn. Sure, maybe Glenn deserves it for that touchdown, but then he muffed one and gave the Titans 7 points, so he loses it to Jamie. Every time, and I mean *every* time something good happened onspecial teams, I heard Jamie Winborn's name. He had key blocks everywhere, and that made our special teams perform exceptionally well yesterday. We always had decent field position, and we were very good at not giving up field position. And field position is a key reason we could put up tons of yards and still not get in the endzone.
Jonathan – I like Earl's pick of Winborn. And I gotta give my nod to another special teamer that finally got a chance to strut his stuff on the offense this weekend — Andre Hall (like you all couldn't have guessed that was coming!?). He did a good job again on special teams and he made a very special impression at RB when Young went down. He racked up 89 yards and a TD on the evening. Now, I have to admit that I've liked what I've seen of Young these last two weeks, but I've always thought throughout the OTA days that Hall had the edge over Young. It was his training camp injury that sidelined him during the preseason (when a great showing might have propelled him past Young) that reduced his role to backup kickoff returner. But this Monday we got to see the explosive running I've been ranting about since May — and for that I have to give #23 my game ball of the week!

Kyle – Excellent choices both. I was very tempted to give it to the offensive line for opening holes and keeping Cutler protected (for the most part – although Cutler helped himself by scrambling and quick throws, too). In the end my game ball has to go to Brandon Marshall, who not only had a 40-plus yard touchdown grab of his own, but showed his willingness to be a team player through his brutal blocks. Not only did he set up the hole for Andre Hall to run through on that game clincher, but he also had a few key blocks to move the chains in the second half. Our offense is finally clicking after huge losses due to injury, and Marshall is a big reason why.