Posted Thu Nov 8th by Monty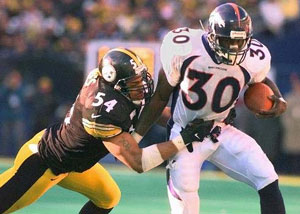 Came across this article by Dr. Z over at Sports Illustrated. He has to submit his first 25 names for the Hall of Fame preliminary ballot soon, and discusses his selections in pretty good detail. He's given in to the Art Monk outrage, and he's also giving Cris Carter his vote, making it an unusually high year for wide receivers, according to the Z. But what comes of interest to Broncos fans is two names he's entered for this first ballot – Terrell Davis and Randy Gradishar.
Terrell Davis is my only running back, of the six listed. I'm sure he'll make it to the final 15, which will get him into the selection meeting at the Super Bowl, and the debate will rage long and hard. Shortness of career will be the main negative, although others are in there who have done far less.

He played for seven seasons, only four of which were really outstanding … dynamic actually … and that's perceived as a negative. But all you have to do is look at one of the current senior candidates, Marshall Goldberg, to see the lack of logic here. His career stretched over eight years, with only two, repeat, two, functional seasons. How his name came up is a mystery. A joke, actually. But that's another matter.

In the last two years of the glory part of Davis' career, the Broncos rode his shirttails to a pair of Super Bowl titles, the only ones in their history. You could rightly say he and John Elway are the two most important people in the history of the franchise. I think that's enough of an endorsement. Quality over quantity will be my argument when this whole thing comes up in January.

…

Randy Gradishar is someone everybody else likes better than I do. And I'm talking now about scouts and longtime personnel people who explain to me why he was so good. OK, I'll buy it. Obviously I was missing something, but I'd really like to see the whole thing presented to me as a film study.
Current nominees not included on his list are OL Gary Zimmerman and DB Louis Wright.
I applaud Dr. Z for including two Broncos on his short list, and hope he keeps both of these guys all the way through the 15 finalists that get debated during Super Bowl week. Davis holds some big time records and should be included, and how many linebackers have 2,000 tackles in 10 years like Gradishar?
The Broncos have a lot of guys getting looked over each year, and it would mean a lot to have two former greats enshrined in one year.