Posted Thu Aug 16th by Monty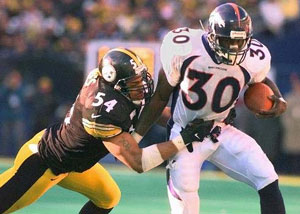 Davis did enough in his few years to warrant a bust in Canton, plain and simple. Photo Courtesy
Terrell Lamar Davis, born October 28, 1972 in San Diego, California, is one of the most beloved Denver Broncos of all time. Drafted in the 6th round of the 1995 NFL Draft, Davis didn't come into this league with high expectations. Coming out of Georgia, he didn't enjoy the success of many other college running backs – he only started one year, and continul hamstring injuries hurt his stock on draft day. New Head Coach Mike Shanahan and his crew made what would turn out to be one of the best decisions of their lives – they took a chance on Terrell Davis in the 6th round.
Starting as the sixth-string tailback, Davis had a long way to go before he could play in a game, let alone make the team. But in the second preseason game of the 1995 season, Davis separated himself from the group. He delivered a crushing tackle in Special Teams that caught the coaches' eyes and set his career on the fast track in Denver.
He elevated up the depth chart to the starter in week 1, and the rest, as they say, is history. Year after year with Davis running the rock, the Broncos offense improved. Davis' numbers improved as well, and in 1997 the Denver Broncos made a run to the Super Bowl. In the process, Davis ran for over 100 yards and scored at least one touchdown in each postseason game, paving his way for several playoff records. His postseason performance that year culminated in Super Bowl XXXII, in which Davis had the game of his career. Scoring 3 touchdowns, which remains an NFL record, Davis ran his way to Super Bowl MVP honors as he led the Broncos to their first world championship.
But he wasn't done there – in 1998, Davis followed up his Super Bowl success through every week in the NFL season. As the Broncos marched towards a near perfect record in what would be John Elway's final year, Davis led the march as the third (at the time) player in NFL history to rush for over 2,000 yards. This gave him NFL MVP honors, and he followed up that regular season success with more postseason success. He was a key part of the Broncos' back-to-back Super Bowls, and the future looked bright for Davis to continue his success after his Hall of Fame quarterback retired.
Unfortunately for Davis and the Broncos, that future never came to fruition, as devastating injuries for the next three years prevented Davis from seeing significant action. He retired in the 2002 preseason with over 7,600 yards and 60 rushing touchdowns for his career. See the full stats below: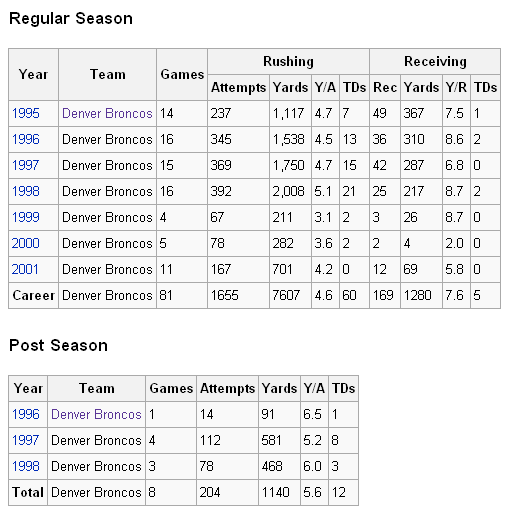 Get Him in the Hall
Davis has only been Hall-eligible for one year, and while I can respect the fact that his injury-shortened career might taint his first-ballot status to some eyes, it shouldn't go on for another single year. Every eligible player to have ever been both the Super Bowl MVP and the League MVP are already inducted into the Hall of Fame – except Davis. Such success to lead a team in a championship, and to be the most valuable player of an entire NFL season, is so rare it deserves enshrinement alone. His 3 rushing touchdowns in Super Bowl XXXII still stands as an NFL record, and it's hard to imagine a running offense ever eclipsing that record in the future.
There is a history of exceptional players who had their careers cut short, but still find themselves immortalized in Canton. One, a fellow running back, is particularly worth noting, since both players played in the league for 7 seasons, and both were unable to continue their success due to devastating injury. I am talking about, of course, Chicago Hall of Famer Gale Sayers. You can see Sayers' statistics below – a real eye-opener on how much of a lock TD really should be.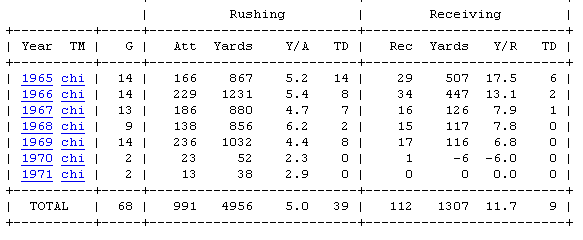 As you can see, Davis did more in 4 productive season than Sayers did in 5. Sayers was a first ballot Hall of Famer, and I have to believe this reflects an East Coast bias by the voters perhaps more clearly than anything else. Again, I must stress that I'm not trying to argue that the currently enshrined do not belong, and I mean them no disrespect – but it's simply unfair to see other athletes from other teams adding enshrined members year after year while the Broncos remain with none.
To top everything off, Davis was a leader on this team. As young as he was, he wasn't afraid to put in the work and sacrifice to be great, and he was a natural leader in the locker room.
Few players have had such a profound impact on the league to be voted as a Super Bowl MVP and a Leage MVP in seperate seasons. Terrell Davis is one such athlete, and deserves to be recognized in Canton as one of the greatest to ever play the game. Very few running backs accomplished more than Davis did in their first four years of their career – two Super Bowl rings, MVP honors for both the entire regular season and the Super Bowl itself, and a 2,000 yard season that will always honor him in the record books. He led the Denver Broncos to their first championship, and without him it is inarguable that Denver may still have never tasted that success. The rest of Davis' career was taken away from him with horrible injuries – I hope the Hall of Fame voters can look past his short-lived successes and not take away a bust in Canton from the All-Pro as well.