Posted Tue Aug 7th by Monty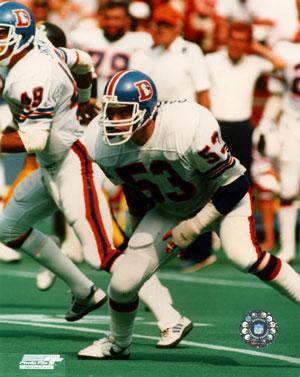 He's got your "Orange Crush" right here. Photo Courtesy
Randy Charles Gradishar, born March 3, 1952 in Warren, Ohio, came into the National Football League after a tremendously successful college career. Playing for the Ohio St. Buckeyes, Gradishar was selected as first-team All-American in both his junior and senior seasons (1972, 73). In his senior year, he even finished sixth in Heisman Trophy voting – this guy was truly dominant as a linebacker in college. Legendary college coach Woody Hayes – "The Vince Lombardi of College Football" – once called Gradishar "the best linebacker I ever coached." To this day, the award given to outstanding Ohio State linebackers is called the Randy Gradishar award.
The Denver Broncos drafted Gradishar with the 14th overall selection in the first round of the 1974 NFL Draft. Only a few years after the Broncos finally earned their first winning record, they were hoping this talented defender could lead them to an actual championship. With one of the most loyal fanbases in the nation – despite a lack of general success – a championship was in the Broncos' sights.
He played in all 14 games in his rookie year, earning 51 tackles and All-Rookie honors. He would never tally less than 150 tackles per season the rest of his career, and he would never miss another non-strike game.
Over the course of his career, Gradishar exceeded these gaudy expectations. In 1977, he led the Broncos to our first Super Bowl – an embarassing loss at the hands of the Dallas Cowboys, but it was our first AFC Championship and the most successful season in franchise history. Leader of the vaunted "Orange Crush" defense, Gradishar was elected as Defensive MVP in the NFL for his career high 286 tackles and 4 interceptions.
He earned his first Pro Bowl in his sophomore season of 1975, and he never looked back. He averaged a whopping 204.9 tackles for his 10-year career – among the best in NFL history. As you can see below, year after year, his numbers were impressive.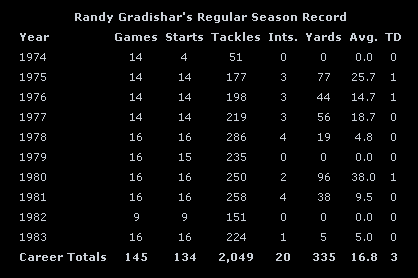 Get Him in the Hall
Possibly more than any of the other Broncos snubs, Gradishar's exemption from the Canton, Ohio is simply unexplainable. I'm convinced it has to do with some sort of grudge on the side of the HOF Selection Committee – just look at this article from Woody Paige to get an idea of the injustice toward Gradishar.
In 2003, I called in every favor, pleaded with every voter and attempted to orchestrate a plan to get Broncos linebacker Randy Gradishar, who retired after the 1983 season, into the Hall of Fame. He made the list of the final 15, from which three to seven candidates would be chosen. As the rep from Denver, I was to start the debate on Gradishar. In the most impassioned speech of my life, I said: "Gradishar is the only NFL player in history to record 100 tackles a year for 10 consecutive years. He finished with more than 2,000 and had 20 interceptions. For a 10-year period he was one of the best inside linebackers in the game and was the established leader of the famed 'Orange Crush' defense that reached the Super Bowl."I raved on."He was the greatest linebacker on third- and fourth-and-1 anyone watched in the 1970s and '80s. He stuffed quarterback sneaks, tailback runs and fullback dives by lining up 10 yards back and racing to the spot before the back arrived. He was a true student and gentleman of the game, an all-pro and a winner."
I quoted his coaches and teammates and opposing coaches and offensive players. And I closed by saying, "The Denver Broncos don't have one player in the Pro Football Hall of Fame. Honor the players who have passed through Denver over 40 years by recognizing Randy Gradishar as their first inductee, the heart and soul of all of those before him."
Adam Schefter, then the pro football writer for The Post and the president of the writers association, followed up powerfully.
A writer from an Eastern city, sitting next to me, said before the proceedings: "I will support Gradishar."
He was one of only two electors to negatively cast Gradishar: "They always handed out too many tackles in Denver." (Gradishar began his career playing in 14 games, and half his games were on the road.)
Another voter, from a Midwestern town, said a (highly respected) NFL franchise executive told him Gradishar "is not a Hall of Famer."
Gradishar fell short and has not made it back to "The Room," as the selection meeting is called.
Now, I'm not a big fan of Paige's… he didn't do all of his homework in this article (feel free to check out my comments, and others, at the article link)… but the fact remains: Gradishar not being in the Hall of Fame has to be considered one of the worst disgraces in all of Sports' Hall of Fames!
One need look no farther than Harry Carson… Carson had a very successful career, and made plenty of big plays when it counted. Statistically, Gradishar's career compares favorable to Carson's – they played for much of the same era, and Gradishar as a whole had more tackles, interceptions and one less fumble recovery than the 2006 Hall of Fame Class member. In less time. While he didn't win a Super Bowl, Gradishar was instrumental in leading the team to its first Super Bowl, and the leader of entire defensive nickname in "The Orange Crush."
If having over 2,000 tackles in 10 years in the NFL isn't enough to warrant a Hall of Fame bust, it's hard to imagine what is. When you consider that Randy Gradishar was the biggest playmaker on the feared Broncos Orange Crush defense, and that he dominated the line of scrimmage on third and fourth downs, it's simply a no-brainer. 20 interceptions and 13 fumble recoveries only increases his already impressive resume, and his postseason success is more than enough to guarantee a spot in the hallowed hall. I hope the Hall of Fame Voting Committee can right this wrong and restore a piece of Broncos history to NFL history.